Teela Books is an indie publisher of gambling and miscellaneous non-fiction books. Our books are available in paperback on Amazon. In addition, our books are available in digital format. Most of them are available in the Amazon Kindle catalog, and unless otherwise noted, they are available on the following platforms: iBooks, Barnes & Noble, kobo, Scribd, 24 Symbols, Inktera, Indigo, Overdrive, Playster and Tolino.

You can find a complete listing of all our books here on our catalog page.
November 30 2019
Cosmopolitan Ice Skating
Right after Thanksgiving, the Cosmopolitan hotel turns their swimming pool into an ice skating rink. I don't skate. I have trouble just walking, but I thought I would check it out this year. It's free to enter the facility. There is an admission fee to the ice rink and a fee for renting skates. But I just hung out for a little while.
You can watch the skaters, and they had a Christmas tree on patio area to the side of the rink. Since the entire area is outdoors, you can see the through tall plexiglass. If you're near the ice rink, you may experience snowfall. They release snow periodically, at least they did when I was there, but it was the evening.
The ice rink is located on the fourth floor.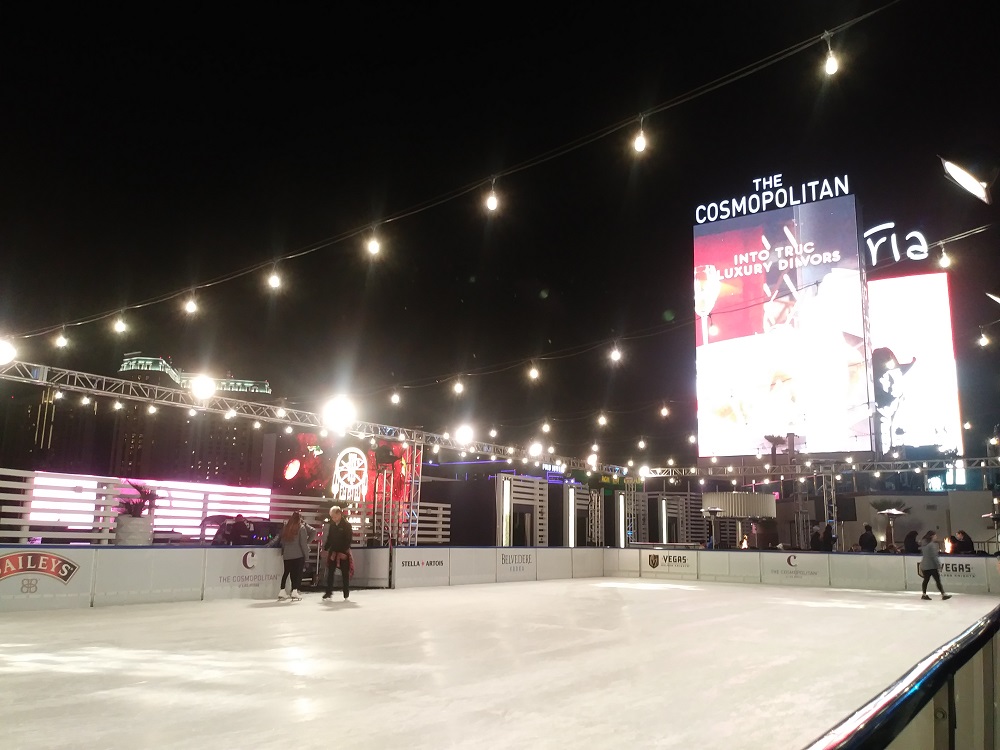 The Rink
The Christmas Tree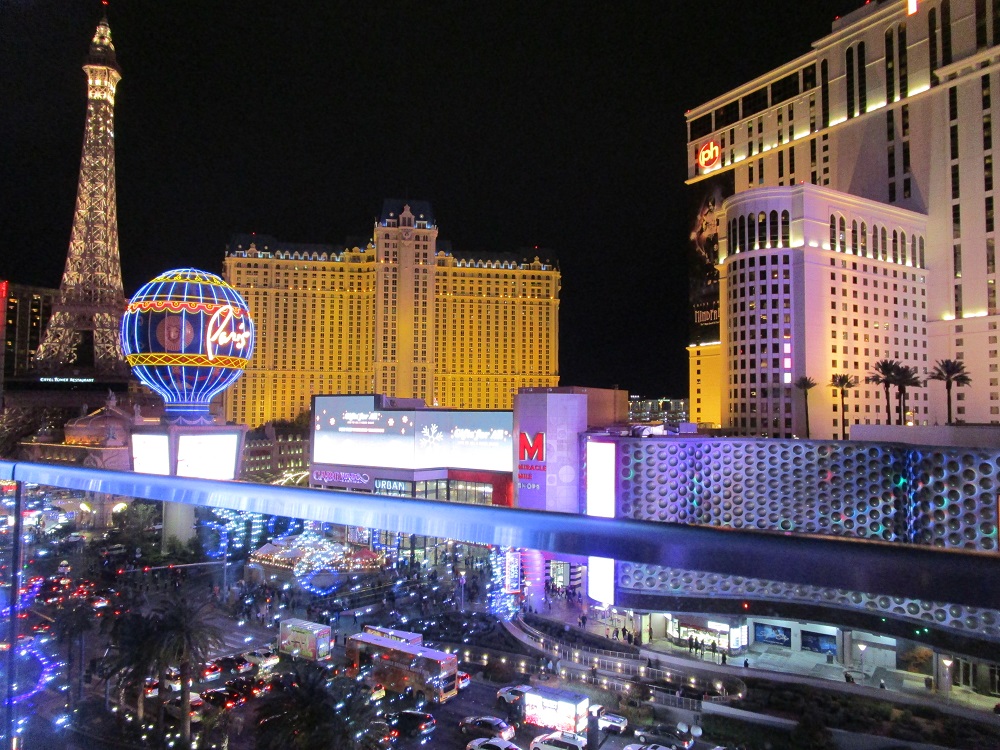 The Strip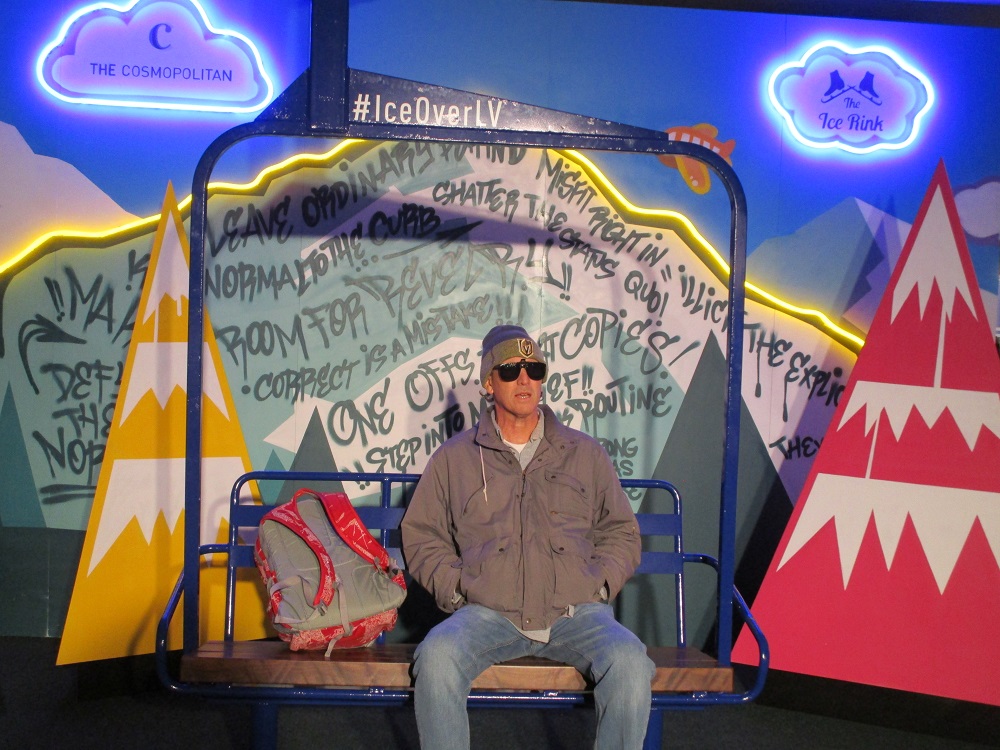 Here I am, chillaxin on a ski lift.
You can get more information on their website
https://www.cosmopolitanlasvegas.com/ice-rink
June 30 2019
A Word about Circus Circus
Okay, I've been meaning to say this for awhile. I like Circus Circus. A lot of people put it down because it is one of the oldest hotel/casinos on the Strip. And I will admit that it could use major renovations, well, maybe just a face lift. But you have to understand that it's the only place like it in town, and the  only place that can be remotely considered family friendly in Sin City. There is the Excalibur, but it is on the far south end of the Strip, and to be honest, it doesn't have as wide a range of activities that kids enjoy.
If you don't have kids and don't want to see or hear kids while you're in Las Vegas, Circus Circus is not for you. So, shut up with your criticisms of this great hotel/casino.
They have the Adventure Dome, which is an indoor amusement park. They have the Midway, which is a place with an assortment of carnival type booths with many games of skill. On top of all of this, they have free entertainment in the form of circus acts that everyone can enjoy.
And by the way, this is the last hotel on the Strip to still have a McDonald's. It is on the Midway area. Adults may laugh at McDonald's, but kids still love it, and I still go there on occasion. I was raised with McDonald's, and I will always have a special place in my heart for their french fries.
So if you haven't been to Circus Circus in awhile, you should consider dropping by on your next trip to Vegas. It is entertaining. After all, it is a circus.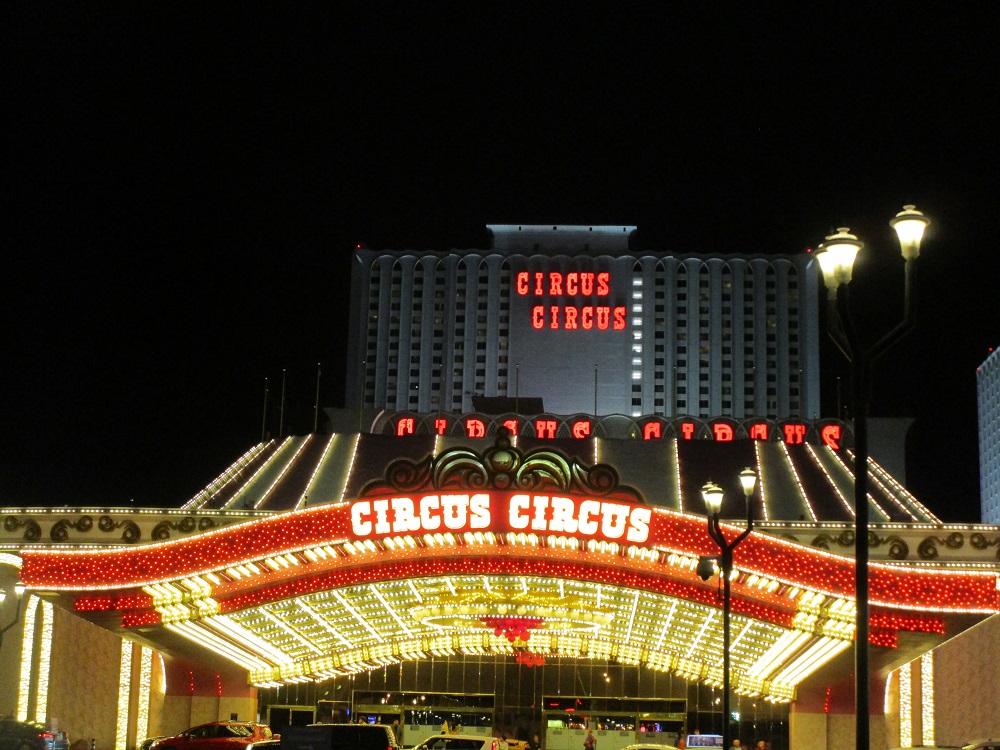 Apr. 19 2019
Bonnie Springs Closes
In my book, Things To Do in Las Vegas Off the Strip, Away from the Neon Lights, I wrote about this place, and included it as one of my favorite things to do off the Strip. However, Bonnie Springs Ranch is now closed. I took my child here several times after I arrived in Las Vegas back in 2003. On the weekends, they usually had a small train that took guests to and from the parking lot. Kids, including mine, enjoyed the train.
There was an old western town that was usually a visitor's first stop. This part of Bonnie Springs was reminiscent of the Knott's Berry Farm Ghost Town, although one with a lower budget. There were a few shows performed here. There were gunfights and a hanging.
But I think what my child liked best was the petting zoo. It was large, and there were many animals. Since it was part petting zoo and part zoo, many of the animals could only be looked at but not touched.
There are a few other things you could do here. They had a riding stable and offered pony rides for children and guided trail rides on horseback. They even had a motel if you wanted to stay the night.
This place was far west, as far as you could go here in Las Vegas without leaving the valley. The elevation is a little higher than the Strip, so it tends to be a few degrees cooler. This made it nicer in the summer months.
But all that is gone now. The land was sold to a developer. They found new homes for the animals and planned to demolish everything. I'm not sure what is being built here, but I get the feeling it won't be open to the public. It is a strange place to build anything because it is only a small plot of land that is surrounded by large federal lands.
Whatever the future holds, Bonnie Springs will be missed.
Apr. 12 2019
What happened to all of the McDonald's on the Strip?
If you haven't been to Las Vegas in a couple of years, you may be surprised to find fewer McDonald's than you remember. This is because all of the McDonald's inside of MGM properties have been closed and replaced with something else. Most likely they wanted more money for a lease, and McDonald's didn't want to raise their prices. They were already slightly higher than a McDonald's off of the Strip.
However, there are a few McDonald's left but only a few, and three of them are located outside of the hotels. The following are their locations.
1) Inside Circus Circus (in the Midway area)
2) Next to Slots of Fun (the casino next to Circus Circus)
3) Across from the south end of the Mirage
(take the outdoor escalator to the entrance)
4) Harmon Ave. (across from the Cosmopolitan)
Matt
Mar. 29 2019
The 1923 Bourbon Bar
Recently, I was at the Mandalay Bay hotel, having a cup of coffee at the Starbucks near the escalator that takes you to a passage that leads to the Luxor and a few retail shops along the way. Sitting there drinking my coffee, a decorative wall caught my eye. As I followed the wall with my eye, I noticed an antique car. The type made in the early 1920s. What was it doing there?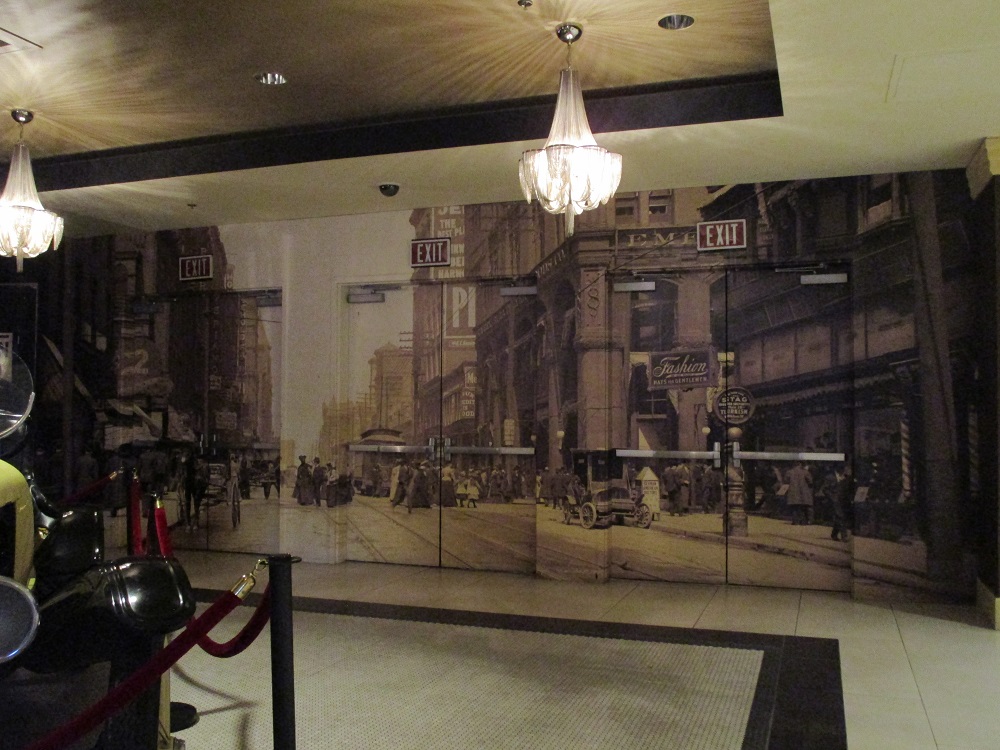 I got up to get a better view, and there was a replication of an old bar and displays of old bottles of whiskey. But this was on the outside. There is a door that led to a real bar called the 1923 Bourbon Bar. It is made to have the feel of a speakeasy. The type of establishment that sold whiskey at a time when it was illegal.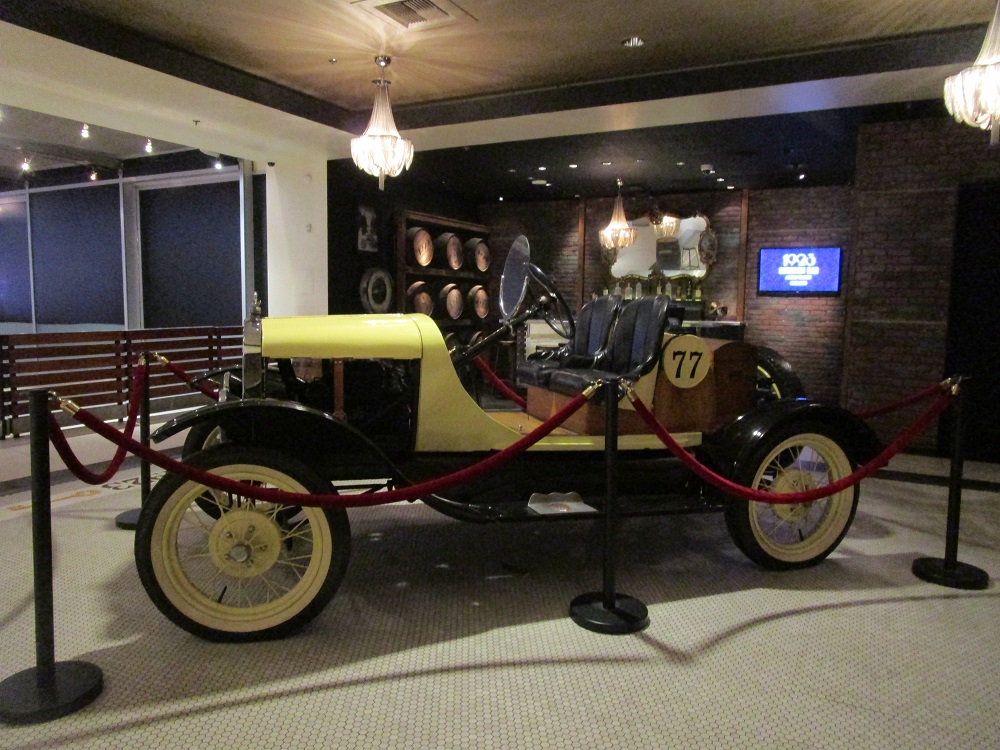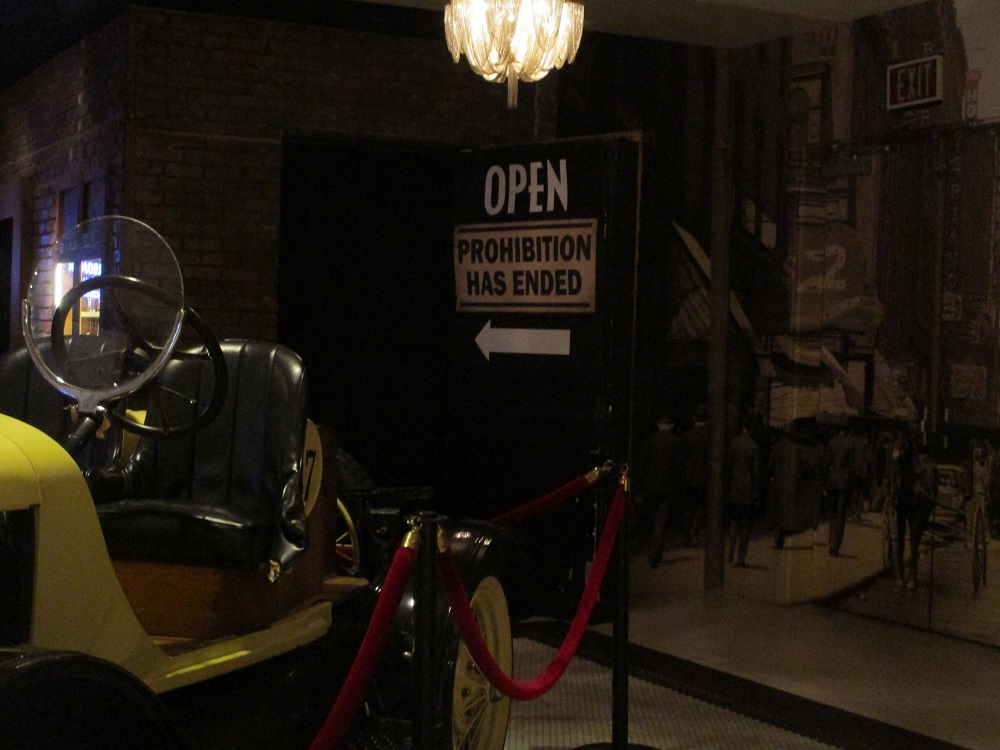 All of the spirits in this bar are bourbon. There are a wide variety of mixed drinks available that use bourbon, or you can have a name brand American bourbon, straight up. I've never been a fan of Kentucky bourbon because it has a sour aftertaste. But they do serve the Tennessee variety, such as Jack Daniels that is charcoal filtered, making it more palpable to me.
It's strange to me that even though I live in Las Vegas and stay abreast of all the new things that are happening in the city, I still find little things tucked away that I've never noticed before.
Matt
Mar. 15 2019
The New City of Las Vegas Sign
A new Las Vegas sign has been built. This one is a bit different from the iconic sign that you see as you approach the Strip from the south. This sign is for the city of Las Vegas. This can be confusing because most people associate the Strip with Las Vegas, but technically, the Strip resides in an unincorporated part of Clark County. Traveling down Las Vegas Blvd., you don't reach the city of Las Vegas until after you cross over Sahara Ave. This means that every major hotel and casino on the Strip is not technically in Las Vegas, except the Stratosphere, and it is here that the city of Las Vegas sign was erected. It is on the corner of the intersection of Las Vegas Blvd and Main St. You can make a left and take Main St. to Downtown Las Vegas. This will take you to the Plaza hotel. If you continue along Las Vegas Blvd. to the right of the sign, it turns into Fifth Street. This is where the Fremont Experience begins.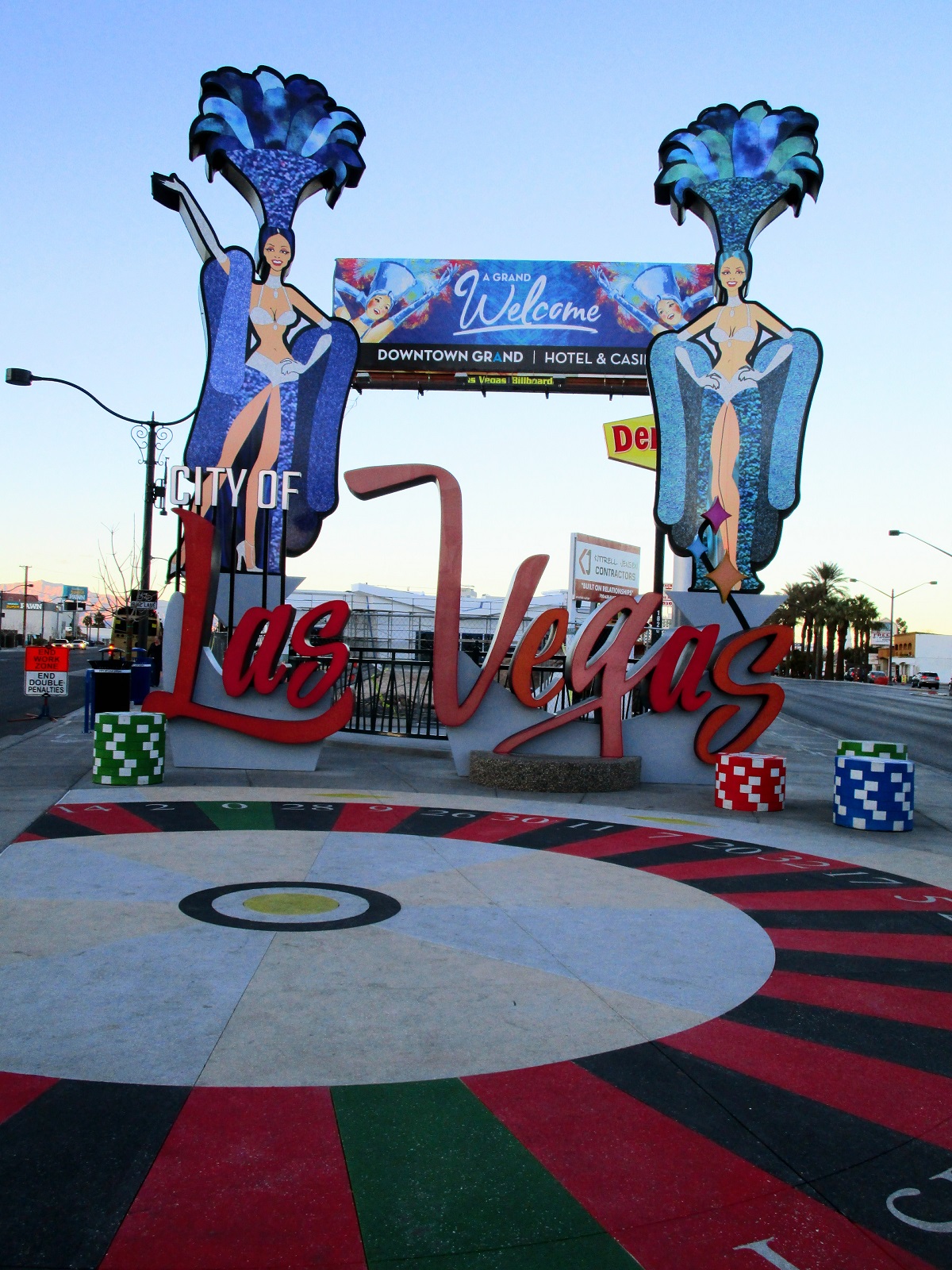 Unlike the Welcome to Las Vegas sign, there is no parking here. However, at the time of this writing, the Stratosphere (now renamed The Strat) still offered free parking in their parking garage. They are one of the few casinos on the Strip that still does this.
Feb. 28, 2019
The Bellagio Conservatory
This is the Chinese New Year, and it is the year of the pig. Here are a few photos of the conservatory at the Bellagio that is decorated to celebrate this. In this first photo, there is a large pig. For some reason, the pig doesn't seem happy.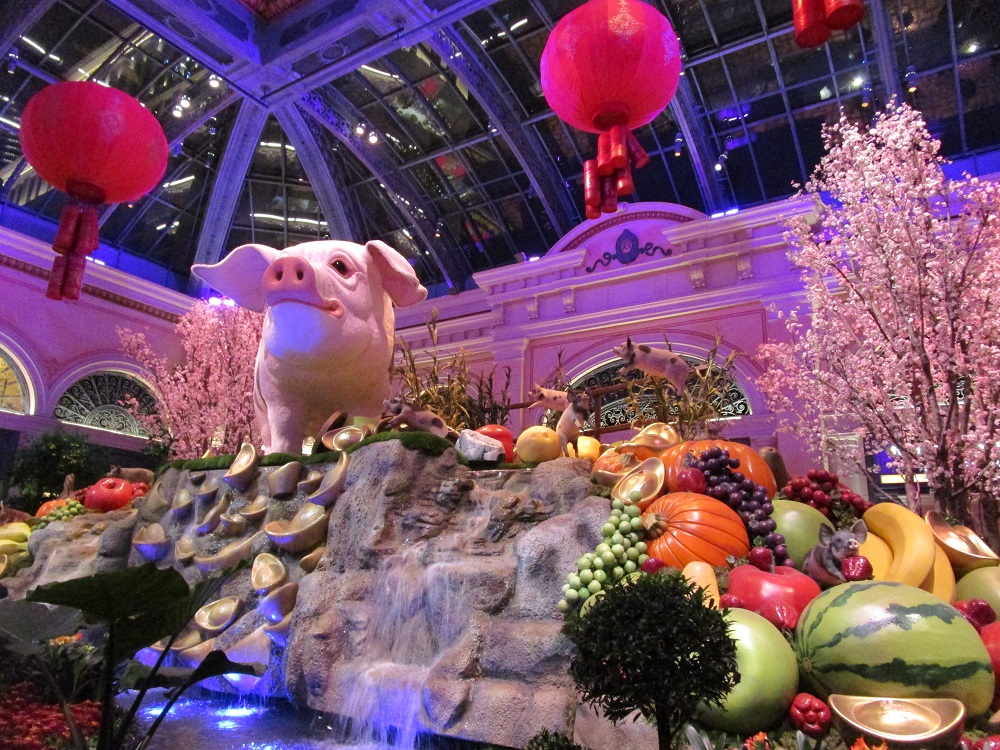 There were some small piglets that were moving as if they were flying.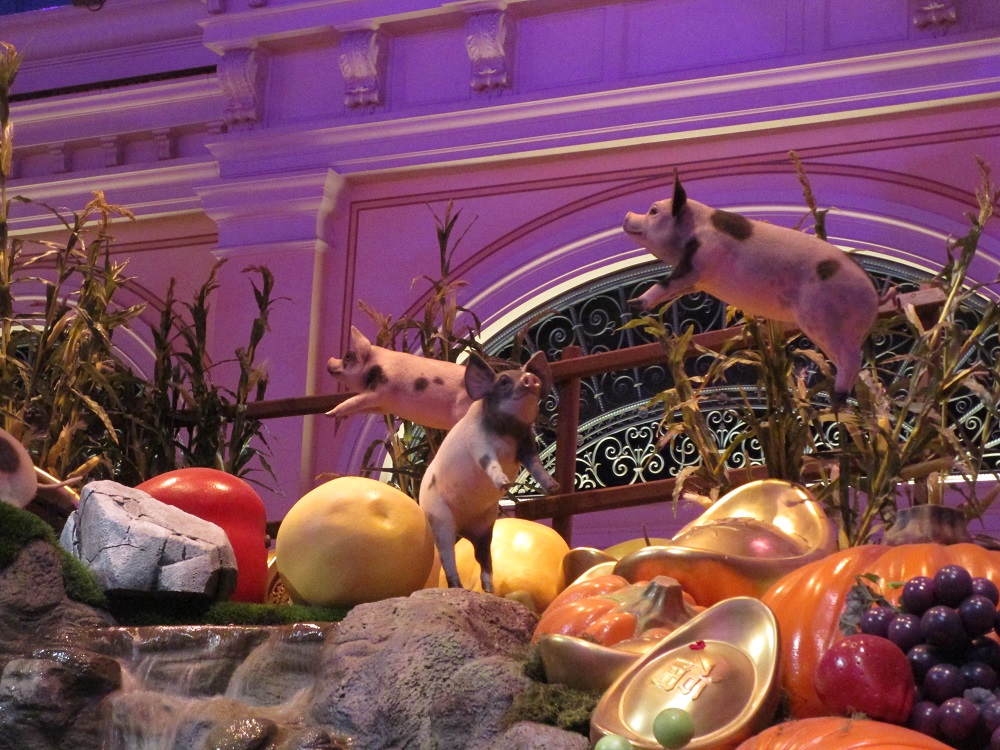 Here is one last photo of a corner of the room.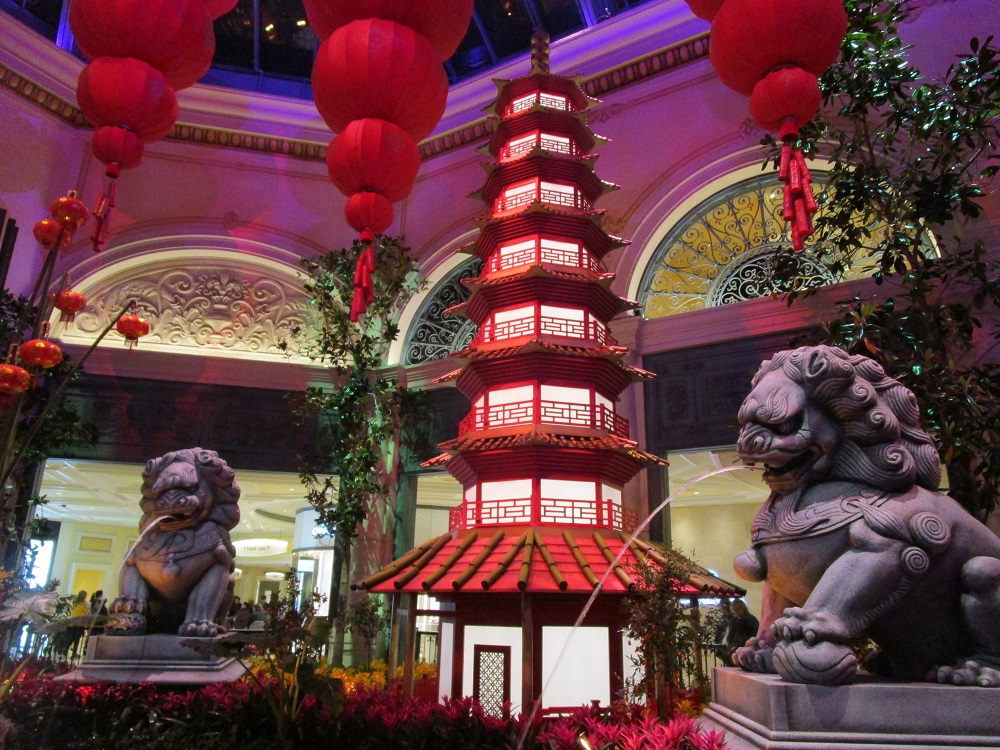 The conservatory is redecorated at various times of the year to reflect an important part of the year. It is always free to visit.
Jan. 31, 2019

The FLY LINQ Zipline
The Fly LINQ zipline is a new attraction on the Strip. It's located above the LINQ Promenade and travels from just inside the entrance of the promenade and ends at the High Roller. It is similar to the Slotzilla zipline in Downtown Las Vegas, but this one is much higher. They claim it is seven stories high, and judging by the nearby Flamingo, this is about right.
They offer both the seated ride along with the superhero. The latter position has you flat like you're Superman, flying through the sky. Unlike Slotzilla, the distance traveled for either seated or superhero is the same, as well as the height.
There are restrictions on who can ride.
You must be a minimum of 40 inches (1.016 meters) tall.
You must weigh at least 60 pounds ( 27 kg) but no more than 300 pounds (136 kg)
You must be at least 12 years old, but if under 18, a parent will need to sign a waiver form.
At the time of this writing, the prices were:
Before 5 PM
Seated $25
Superhero $35
After 5 PM
Seated $30
Superhero $40
Basically, they charge more when it gets dark. But right now it is winter time, so there will likely be time changes as the summer draws near. The latest information can be found at their website.
https://www.caesars.com/LINQ/fly-LINQ
It should be noted that when this attraction first opened in November, there was a minor injury while riding in the superhero position. Supposedly, a man hit his head when braking at the end of the ride. Details were murky then and still are, but the bottom line is that the superhero position was temporarily halted. However, last Saturday, I was at the LINQ Promenade watching people ride the zipline, and not once did I see anything but seated riders. So the superhero may still be unavailable.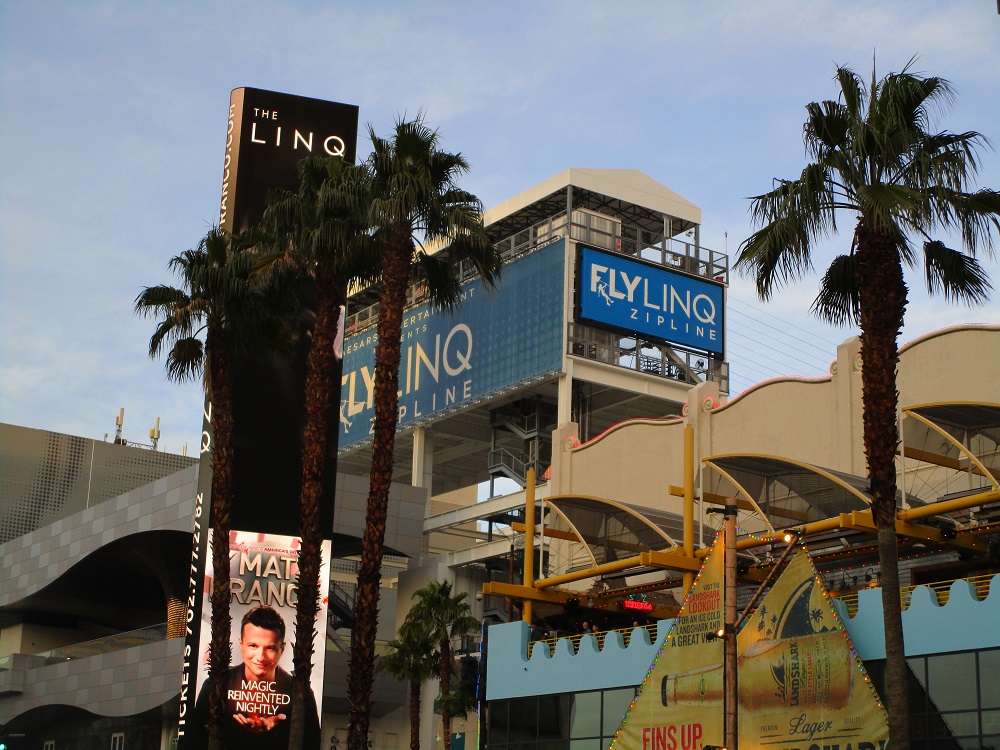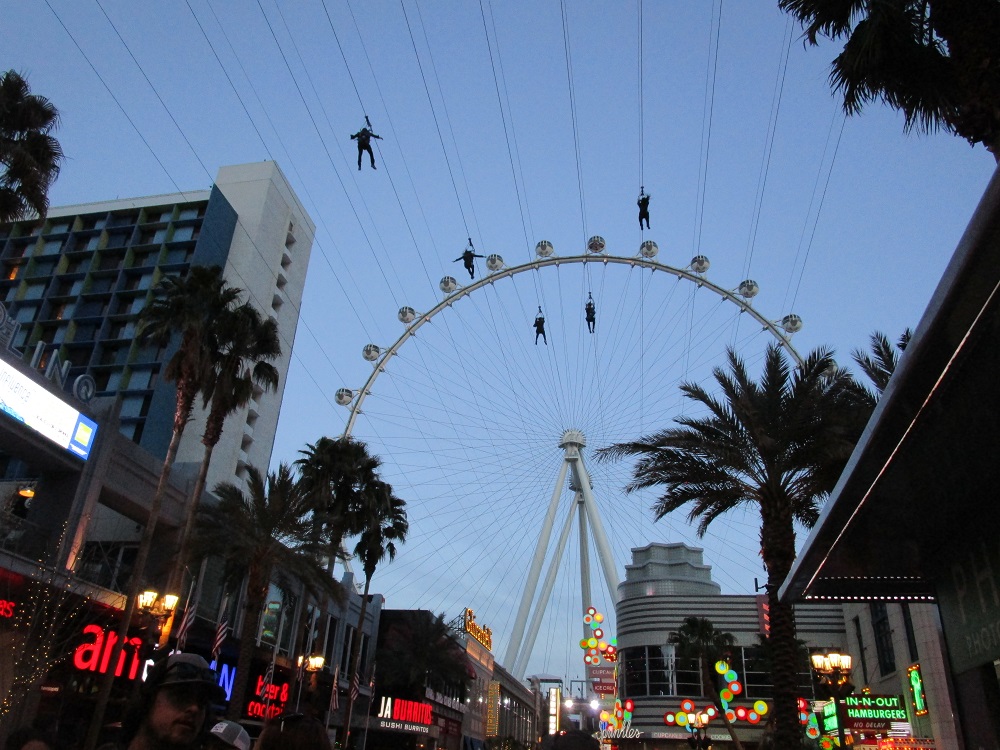 Jan. 15, 2019

Las Vegas has a new Triple-A baseball team
I mentioned in my book, Things to Do Off the Strip: Away from the Neon Lights, that we had a Triple-A baseball team here in Las Vegas. Located north of Downtown Las Vegas, the 51s played their games at Cashman Field. The stadium had a reputation for being one of the older parks in Triple-A baseball, and the player facilities were poor. The Howard Hughes Corporation had a half interest in the team and was able to buy the other half a couple of years ago. As a property developer with land in Summerlin, they began to build a new stadium. It will stand across from Downtown Summerlin and next to City National Arena, where the Golden Knights practice.
At the time of this writing, the new stadium is near completion, and the team has been renamed the Aviators. Most likely, this is in honor of Howard Hughes, who, among many things, was a pilot. They will also be switching their affiliation from the New York Mets to the Oakland A's. The team will begin playing in the spring of 2019.