Teela Books is an indie publisher of gambling and miscellaneous non-fiction books. Our books are available in paperback on Amazon. In addition, our books are available in digital format. Most of them are available in the Amazon Kindle catalog, and unless otherwise noted, they are available on the following platforms: iBooks, Barnes & Noble, kobo, Scribd, 24 Symbols, Inktera, Indigo, Overdrive, Playster and Tolino.
04-23-2022
The New Lake of Dreams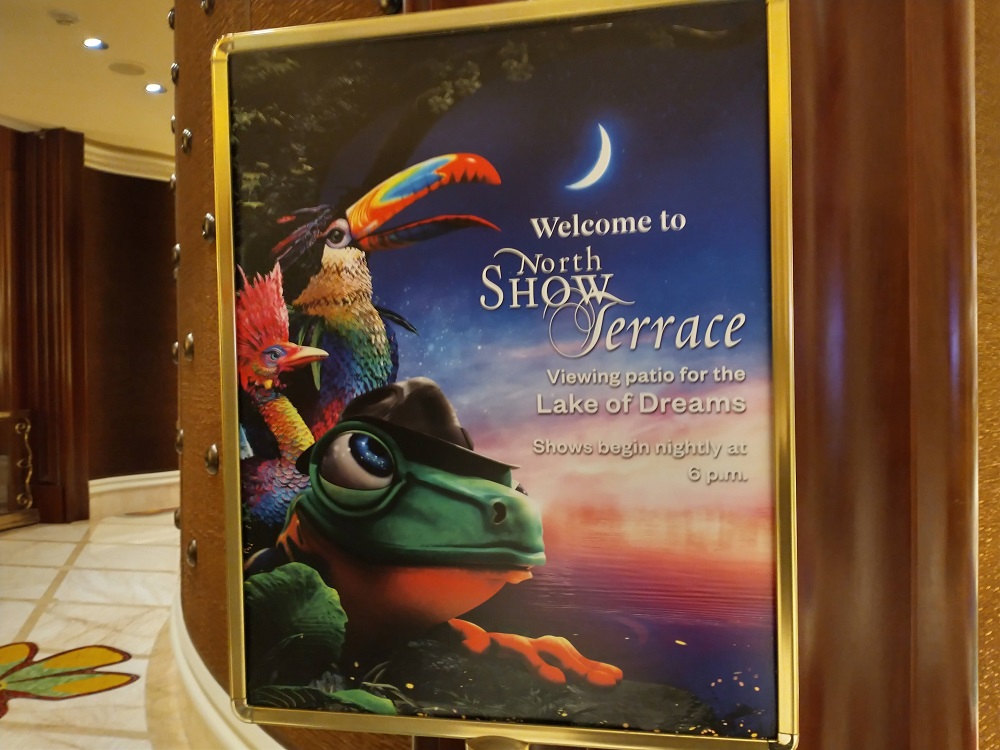 This is an amazing show that takes place on a three-acre lake, incorporating colored lighting, sound effects, animatronics, and a 90-foot waterfall; you will be mesmerized. Unfortunately, you can't simply walk up to the Lake of Dreams and watch the show. The lake is surrounded by several bars and restaurants, so the best way to see the show is while you dine or drink.
The New Lake of Dreams can be seen from the Parasol Up and Parasol Down Lounges, or from the two upscale restaurants at lakeside level: SW Steakhouse and Lakeside.
SW Steakhouse and Lakeside are both patio dining at lake level. They are also expensive. You can look at their menus and compare the prices to determine if they fit your travel budget. You will need reservations.
The show can be seen without paying for a dinner at the Parasol Up and Parasol Down Lounges. The entrance to the lounge is from the Parasol Up level. You then take a spiral escalator down to the Parasol Down level. Although the dress code here is casual, they do not allow tank tops and swim wear are unacceptable. On a side note, the Parasol Up and Down Lounges are worth a look just for the escalators. You can see a photo and get more information at their webpage.
At the time of this writing, the show is running every 30 minutes. They also have different musical versions of the show, as they change it from time to time.
This is the webpage for the Lake of Dreams.
https://www.wynnlasvegas.com/entertainment/lake-of-dreams
Just released, a new book by Matt Lashley:
The Big Book of Things to Do on the Las Vegas Strip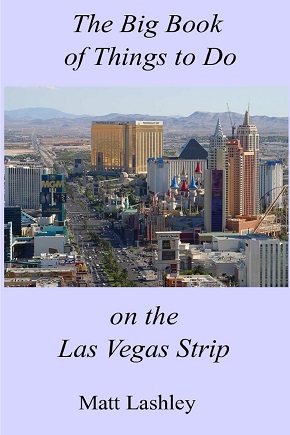 Brand new book by horse racing handicapper Ken Osterman:
The Most Powerful System Ever Devised for Thoroughbred Race Betting Plus 18 Spot Play Angles
For a FREE pdf copy of The Grim Truth about Bitcoin go here
Blog notes on what's going on in Las Vegas
1-11-2022
A few comments after my first visit to Resorts World
This is a brand-new property on the Strip, and was built on the site of the old Stardust hotel and casino. It was a long time coming because of the Great Recession. I think the original project was called Echelon. The Boyd people sold the property to a new Investment group, and they started building Resorts World, but then there was Covid-19, and everything was put on hold for a time. Eventually they finished construction, and now it is open for business.
If you decide to visit Vegas, you might want to stop by just to see what it's like. Of course, you can stay there if you desire; the hotel has 3,500 rooms. It is, however, located on a desolate area of the Strip, so you will need transportation to get around while you're here.
Entering by foot from the Strip, it's an uphill climb, on cobblestone, to reach the front door. When you enter the front door, you will find yourself in a shopping complex called the District. It consists of a lot of upscale shopping. To find the casino, you'll need to make a right turn after the front entrance, the entrance to the casino will be on your left, as you walk down the mall. You'll find a lot of newer slot machines here; the minimums is a little higher than a lot of the other casinos. They also have a plenty of table games.
They have a food court they call Famous Foods Street Eats. Here, you will find a variety of cuisines from around the world, but there is an emphasis on Asian foods. Not being familiar with this type of food, I assume that all of these foods are a street version that can be found in the Far East and Southeast Asia. The food court is high-tech, and you can order electronically from machines found near the food court.
They also have a high-tech way of getting a player's card. All you need is your driver's license, and follow the instructions n the screen;, the machine will do the rest.
The Stardust was my favorite casino. This is not the Stardust. The Stardust, like Resorts World, is somewhat secluded on the Strip. But people would go to the Stardust because it had a reputation for being strictly for gamblers, as degenerate as we may have been back in the day. But I'm not sure what they were attempting to achieve with this property. Perhaps, it is designed for the high-end Las Vegas tourist. I can't tell you about the quality of their rooms; I only know they are expensive. There is also fine dining here, and this may be attractive to the affluent crowd as well.
Still, if you haven't seen the place, it might be worth a look while you are in Las Vegas. At the very least, you can see a sign of the old Stardust as you enter the front door.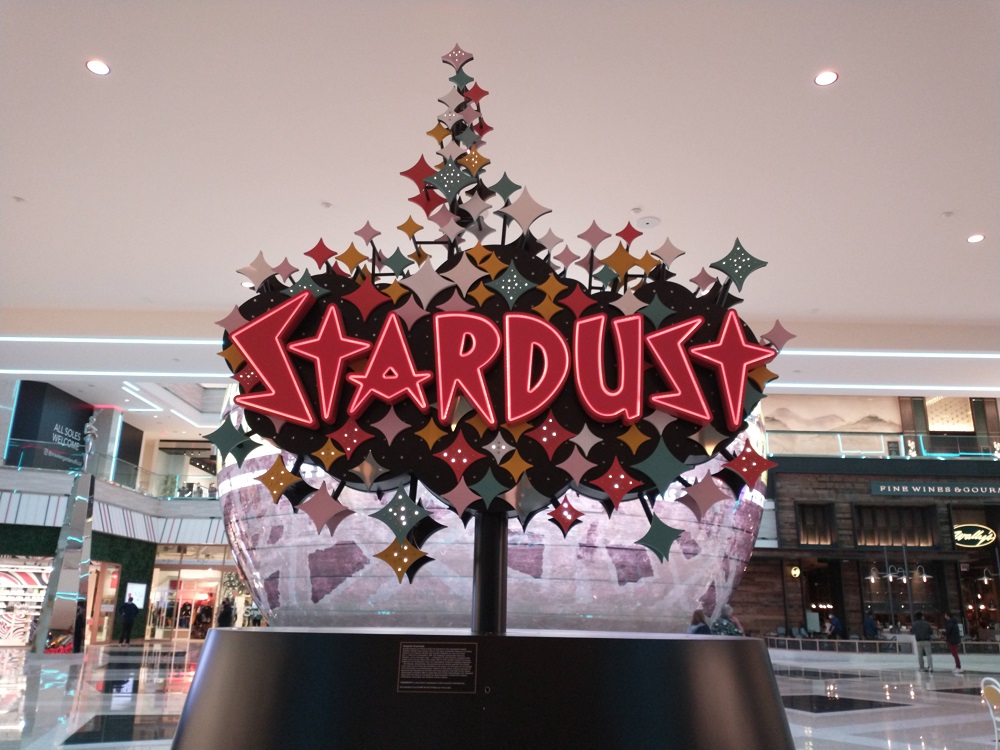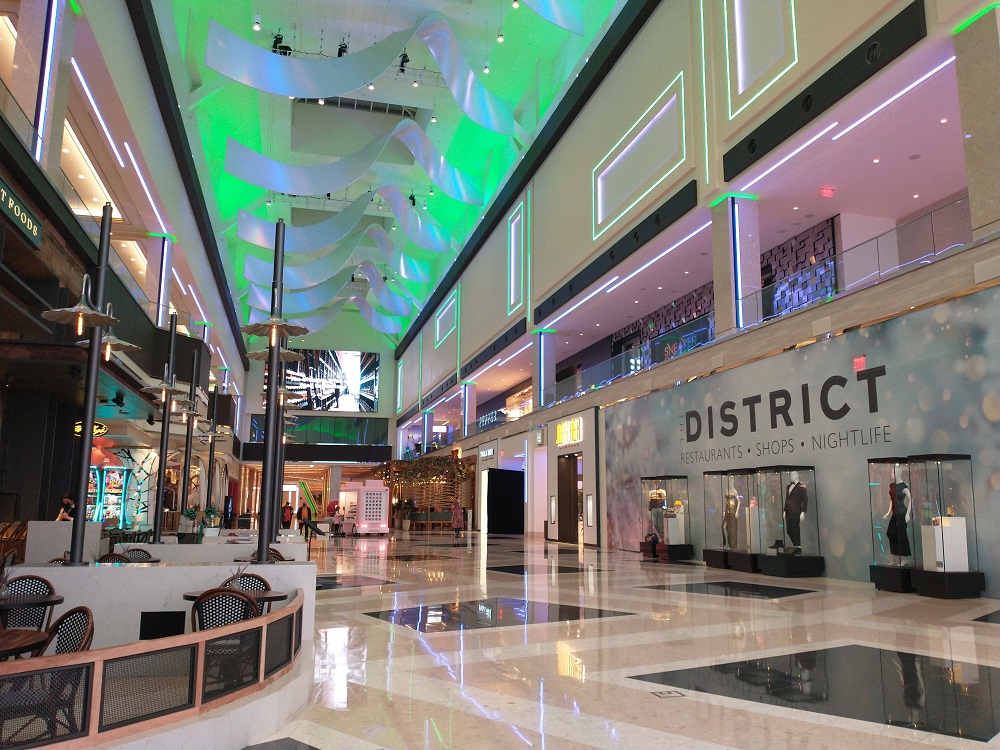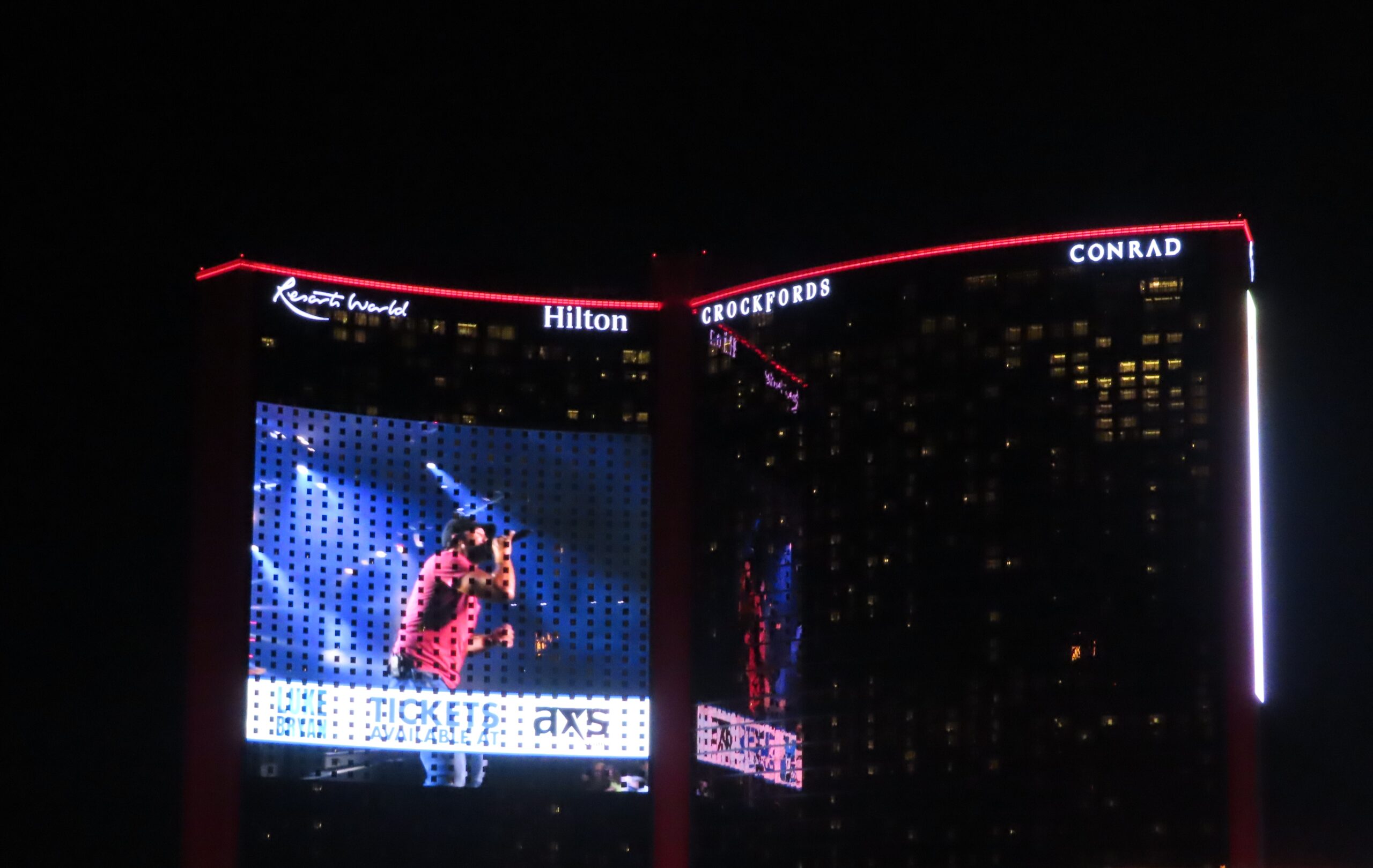 12-4-2021
Las Vegas News for the Week Ending Dec 4
11-27-2021
Las Vegas News for the Week Ending Nov 27
07-4-2021
Pinball Hall of Fame's new location on the Las Vegas Strip!
07-4-2021
New gambling article:
Superstitious Thoughts about Slot Machines, Video Poker and Video Keno Machine
http://teela-books.com/superstitious-thoughts-about-slot-machines-video-poker-and-video-keno-machine/
06-26-2021
05-19-2021
04-05-2021
On Easter Sunday, I was at Tuscany casino, and I saw what was sort of like bubble craps only a bit different. Instead of the center bubble containing the dice that everybody shared, there were individual cylinders that each player used themselves. Each person still has their own betting machine that is arranged in a carousel fashion, but with a transparent Plexiglas cylinder containing two dice.
Although I like bubble craps, I kind of liked this version a bit better for a couple of reasons. The first is that you get to take your time to make your bets because you get to push your own button to launch the dice. Normally, it is only the designated shooter who gets to do this. This is kind of nice because sometimes you are just taking your time, and you don't want somebody else rolling. But the shooter has his button lit up, and they're pushing the button, and you're not ready yet. Of course, this is the way it is at a regular craps table, but when you're playing on an electronic machine, even with real dice, you want to be able to make your bets in a leisurely manner. With this version of bubble craps you can.
The second reason is that annoying voice. In regular bubble craps, as soon as the computer program has waited a certain amount of time, the button will light up for the shooter and, at the risk of sounding sexist, an irritating and nagging female voice will tell you to "push the button, PUSH THE BUTTON!" It doesn't seem to stop. It is the main reason I have to limit my time playing bubble craps. You don't get that with the individual cylinder craps because you can push the button when you're ready. No one is waiting on you.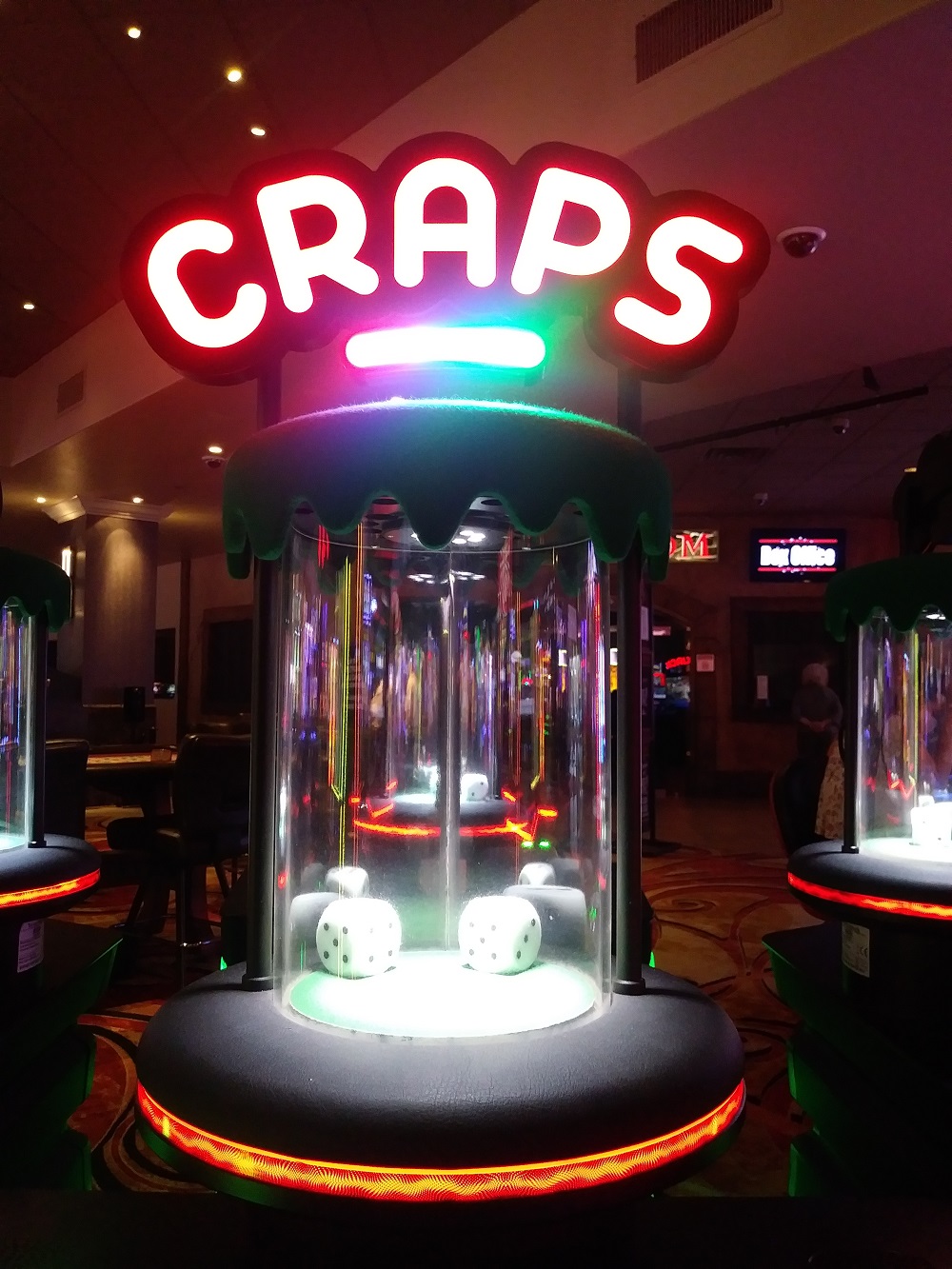 03-01-2021
The game of Sic Bo was written about in Luke Meadow's Stealth Betting Systems for Winning at Casinos, but I've never seen the game in any of the Las Vegas Casinos. A couple of weeks ago I spotted a machine that was called Dragon Sic Bo, and had the look and feel of bubble craps. Each player has their own console to make bets and the dice are launched in a small container like the two dice are launched in bubble craps. This was at the Palazzo, a sister property next to the Venetian. I didn't play, but last Saturday I went back to play a few dollars.
I was surprised that the game was only a dollar minimum bet, but that only meant that I would be able to play longer because I certainly didn't want to waste too much money on a game I never played before. I was initially confused; everything was in Chinese. There was a button to switch to English, but this only removed about half the Chinese. I still was able to understand the game after spending some time reading all the payouts. It is a simple game. You make your bet on the dice that will come up. There are three dice, so you can bet on triples or doubles. You can also bet on dice totals. The game had a strong appeal to my inner Yahtzee.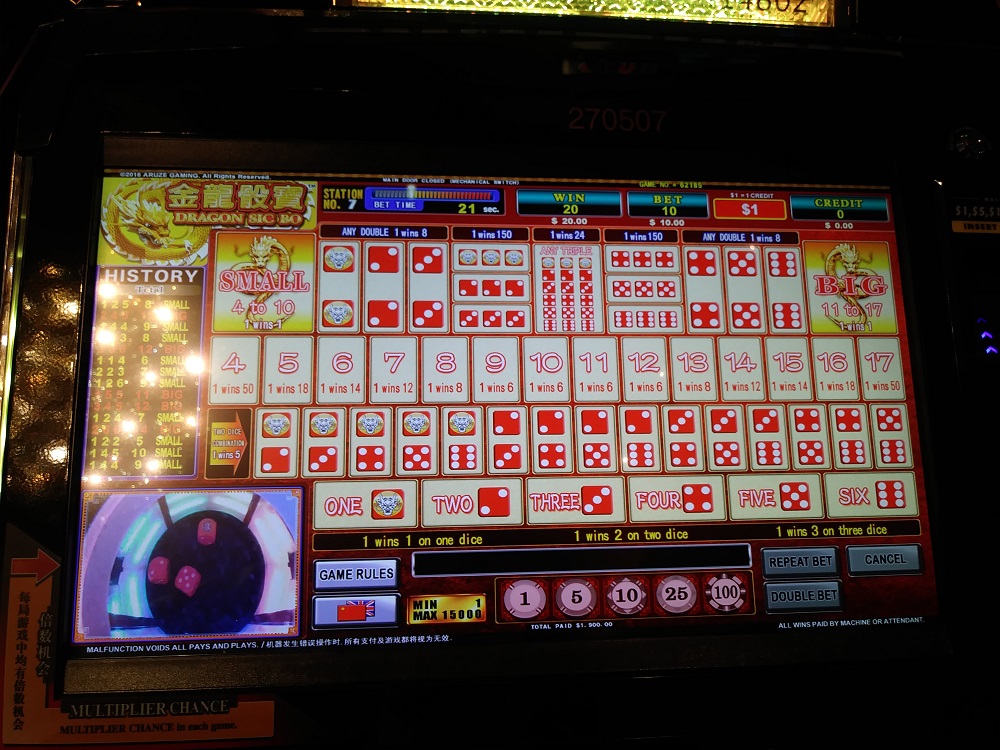 There is a display of the history of the most recent dice results. I found myself using the results before I made a bet.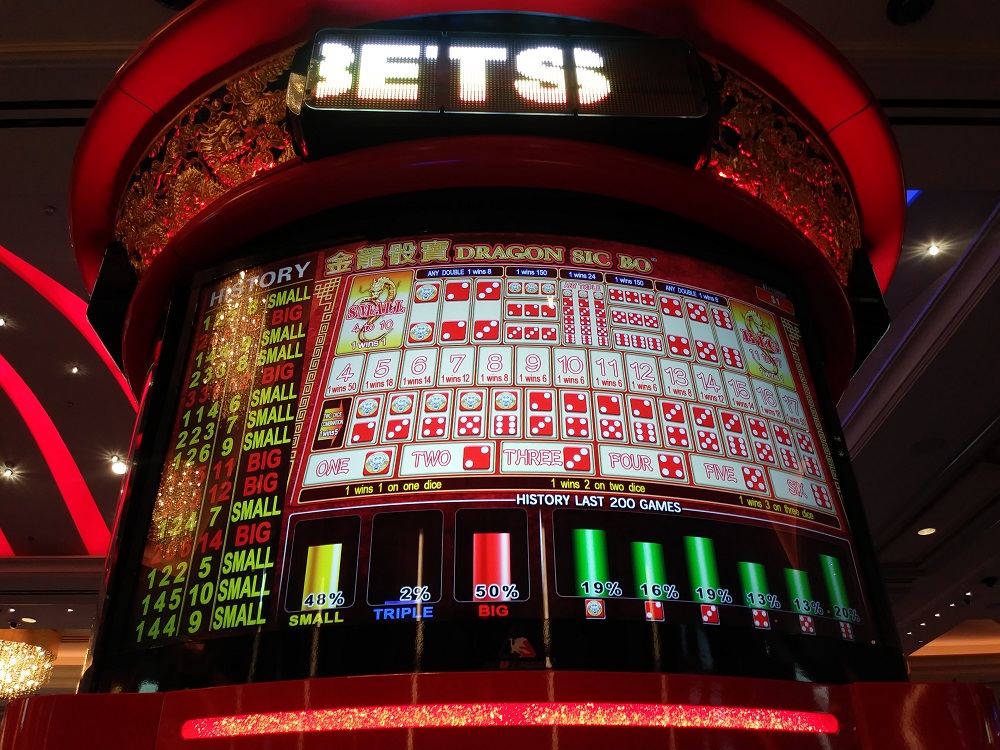 I thought it was a fun game, and I hope it catches on. I've heard that it is a popular game in Macau, but it is a live version of the game that is played there.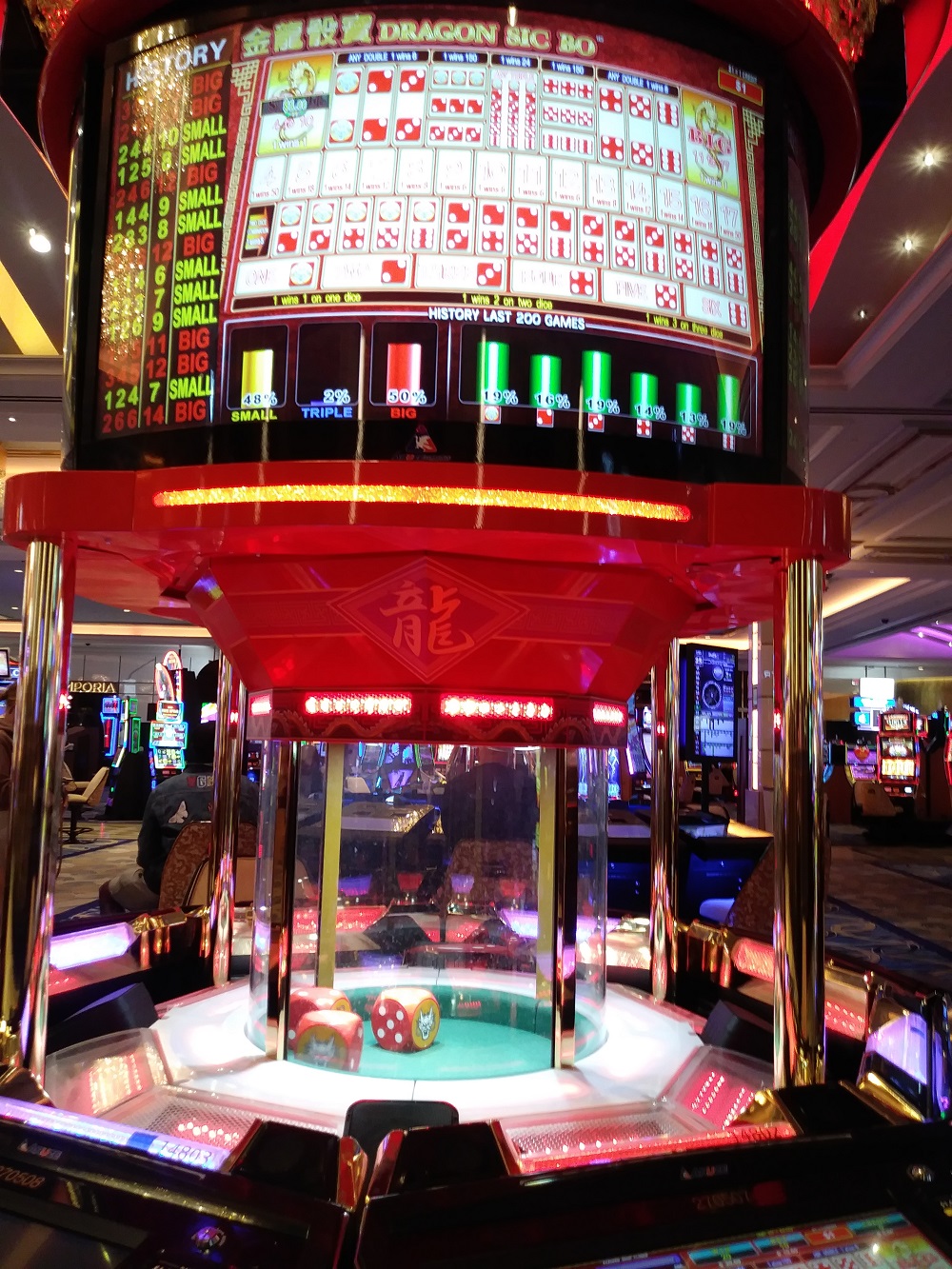 02-03-2021
Last Saturday, I stopped by the Casino Royale. I hadn't been there in a while, but I remembered that I always seem to win there, so I went inside. I had forgotten that it was a fairly low budget way to gamble on the Strip. For example, for video game machines that offer several denominations for play, the lowest that you will find is 25 cents. If you want to play nickels, you need to go off the Strip. Here at Casino Royale, you can play nickels. It's a small casino, but they do have a variety of slots to choose from. They even have a Subway in the back, as well as a $2.99 hot dog, which is cheaper than most food on the Strip. I played video blackjack while I was there and walked away with a 25 cent profit. Nothing to brag about, but a win is still a win.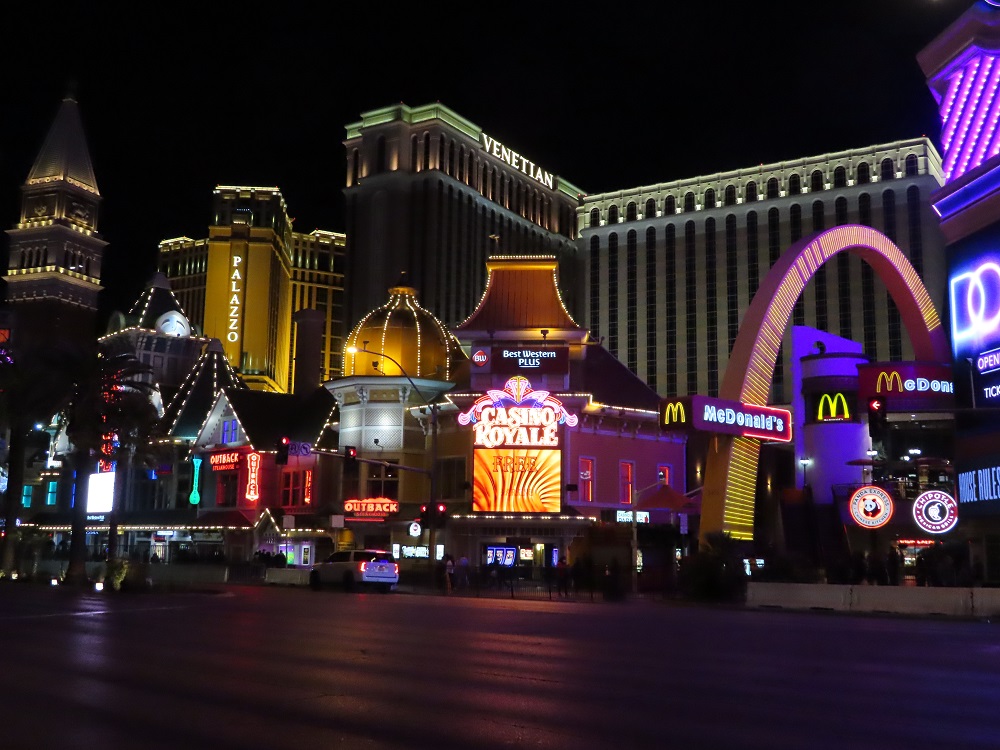 Casino Royale can be found across from the Mirage between the Venetian and Harrah's.
11-10-20
10-27-20
We Have a Second YouTube Channel
Recently I started a YouTube channel that would be about things to do in Las Vegas that is along the lines of the books I have written, and it would also deal with the other books that Teela Books publishes. But I quickly realized that our most popular books were those that related to gambling and not necessarily Las Vegas gambling. For this reason, I decided to create a second channel that I am simply calling – Teela Books. This channel will relate to the books that we publish. Right now, during NFL season, I am going over the picks each week using Ken Osterman's The Quick and Dirty NFL Football Handicapping Method.
In the future, I will discuss other books, and at some point, I may go through all of our publications, regardless of whether they involve gambling. And naturally, I plan on talking about the books I have written about Las Vegas, but these books have nothing to do with gambling, so I may save those discussions for my Stuck in Vegas channel.
Remember to subscribe, so you will not miss new videos that are uploaded.
Thanks
Matt
Teela Books YouTube link:
https://www.youtube.com/channel/UCF8lURwIgt-dXwpUx53r9rA
7-27-20
We Have a YouTube Channel
We have a YouTube channel! I'm getting help from my photographer, Rachel Osterman, who will be doing some of the video recording and editing. The content will be my responsibility. I decided that since so many readers of Teela Books publications also love Las Vegas, I would start a channel, so readers could also become viewers.
I plan on showing many places and things to do that are not necessarily on the Strip. In fact, I would like to show you the entire valley that I call home.
I'm calling the channel Stuck in Vegas because I never planned to be here so long. I arrived in August of 2003 after losing my job. The plan was to stay a few weeks until I got back on my feet. But through a series of twists and turns in my life, it began to dawn on me that I wasn't going anywhere. I couldn't leave. I had no place to go.
But in the last few years, I have accepted my fate, and really started to enjoy it. Then the lockdown struck Vegas like a meteor. I was no longer stuck in Vegas, but stuck in the Mojave Desert. Because without the casinos, there is only the desert.
The lockdown is slowly coming to an end, but there are so many things still closed. As Vegas slowly begins to come alive again, I hope to record videos of everything that I can, and show you the rebirth of Las Vegas.
Remember to subscribe, so you will not miss new videos that are uploaded.
Thanks
Matt
YouTube link:
https://www.youtube.com/channel/UCYB3AxRz31wuecOQ9eABhHg
6-15-20
A Quick Trip to the Gold Coast
Hey there! It's a Monday and I decided to visit the Gold Coast for a couple of hours. I've been to this place many times. In fact, my father worked here for many years, so when I visited Las Vegas, I would make it a point to gamble here. For those not familiar with this place, it is an off-the-Strip casino and is located on Flamingo Road, just down the street from the Rio and across the street from the Palms. The Palms has still not reopened and the Rio is also closed, so this hotel and casino stands silently alone. And this may have been the problem that combined with the fact that it was a Monday was likely the reason for the low number of people there. They were, however spread out evenly throughout the casino. I didn't play any table games, only the machines. It was relaxing, and I walked out a winner. I didn't win much, but I was ahead when I headed for the exit. Come to think of it, I have been a consistent winner since the casinos reopened.
6-13-20
First Trip to Downtown Las Vegas Since the Lockdown
Downtown Las Vegas has been open for more than a week, but it is just now that I decided to visit. I knew they did not allow backpacks, which bothered me a lot because I take my backpack everywhere. It contains nothing of monetary value, but it has everything I need no matter where I travel in the valley. And in Vegas, this includes water. I stuffed my pockets with everything I thought I would need. Then I grabbed a bottle of water and off I went with my gambling companion.
I wanted to make it to Downtown Las Vegas before lunch. However, I got there in the late afternoon and hadn't eaten anything yet, so I was starving. When I finally got there, I was greeted by a checkpoint to get into the Fremont Experience; this is simply Fremont St. that is closed to cars and has a light show on the canopy above the street. As I approached the checkpoint I saw a sign that said you have to be 21 to enter, and no backpacks. There was something else on the sign, but I can't remember what it was. It didn't matter, though, because there was no security present. We just walked in and made our way to the Plaza.
After engulfing my hamburger and fries, I went to the Plaza casino and played a little electronic craps. I just wanted my food to digest before I began walking around. Amazingly enough, I won! Like many casinos, the Plaza did a good job of spacing the games for social distancing.
Our next stop was the California. It's a short walk from the Plaza. Like other casinos, the social distancing was good. I enjoyed myself here because they still have the old style coin in/coin out. You can't even put currency into the machine. You have to get change, just like the old days. I won money here too, but just a few dollars. We walked down Ogden Ave. until we reached the Grand hotel. It has been a long time since I visited here. Come to think of it, I hadn't been here since it was renovated and renamed. (It used to be the Lady Luck) My gambling partner had stayed here since it became the Grand, but it was all new to me. I like the atmosphere; it wasn't too loud and very relaxing. This casino checked my temperature with a handheld device, but other casinos were using a type of body scan when you enter their property. Either way, it all seemed harmless.
At this point, I ran out of water. I figured it was going to cost me a fortune, but there was a gift store on the corner of Fremont and 3rd that was selling two bottles for a dollar. Great deal. They also had a big selection of gifts and souvenirs, so if you're in the area, I would highly recommend them.
We then walked around Fremont for a while The free Fremont Experience show was working and very entertaining. Also, the Slotzilla zipline was open for business. Generally speaking, although there were a few places still closed, most of Downtown Las Vegas was open.
We visited the D; this place was crowded. If there was one casino that has social distancing problems, this was the place. We went to a bar in the back of the D and watched a women's UFC fight and had a drink. If you are worried in any way about the coronavirus, I would recommend staying away. It is fun inside, but I have to say on a side note, that the tables minimums are much higher than other casinos in the downtown area. They also seem to cater to a younger group of people than my age group.
After this, it was off to the Fremont casino in the hopes that the Dunkin' donuts would be open. It was, so we had a late evening snack and pick-me-up beverages. After this, we called it a night. I enjoyed my downtown trip, like I always do. It's nice to see everything up and running. There is a lot of social distancing, but face masks weren't required at the machines; however, some casinos were asking guests to use them at the table games.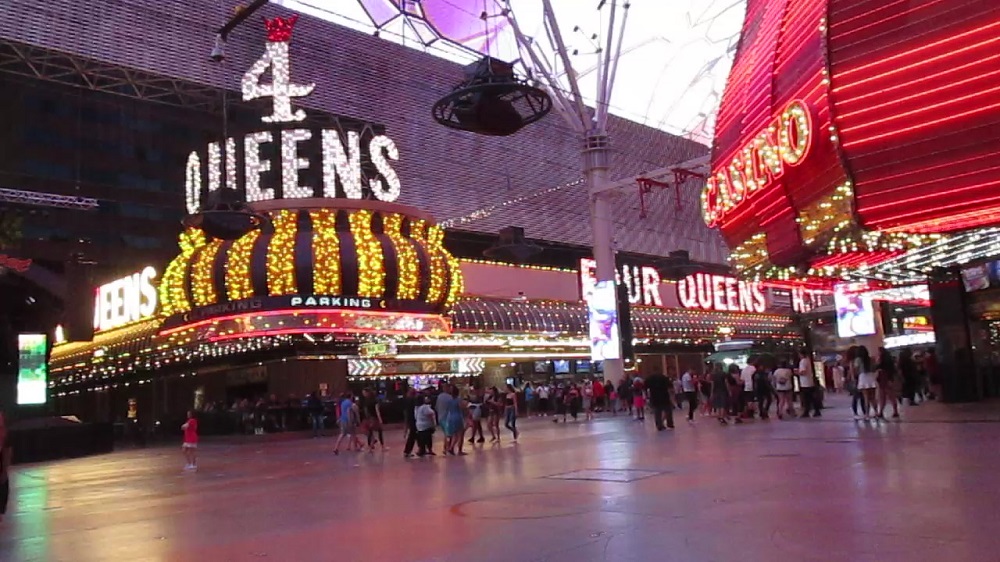 I'm not sure if all the casinos are open. I didn't go into the Golden Nugget or Four Queens, but I think they were open. Golden Gate is the casino I'm not sure about, which is strange because I walked right by it. The bottom line is that Downtown Las Vegas is bouncing back better than the Strip.
Matt
6-11-20
Another Local Casino and a Second Trip to the Strip
Today was my thirteenth anniversary for quitting cigarettes. A pack-a-day smoker for over 27 years, I was finally able to kick the habit on June 11, 2007. I decided to visit the Palace Station casino on Sahara, just west of the Strip and then venture down to the Strip to celebrate.
The now standard temperature check was performed, and I passed. As I walked in, I saw that the machines were spaced out, and there was spacing at the table games as well, but the place was alive with a good crowd, just as I saw the previous Thursday at the Orleans. I made a small deposit at the casino, playing video poker. Although losing a little, I had a good time. The Palace Station is located so close to the Strip that it is a hybrid between a local's casino and a Strip casino.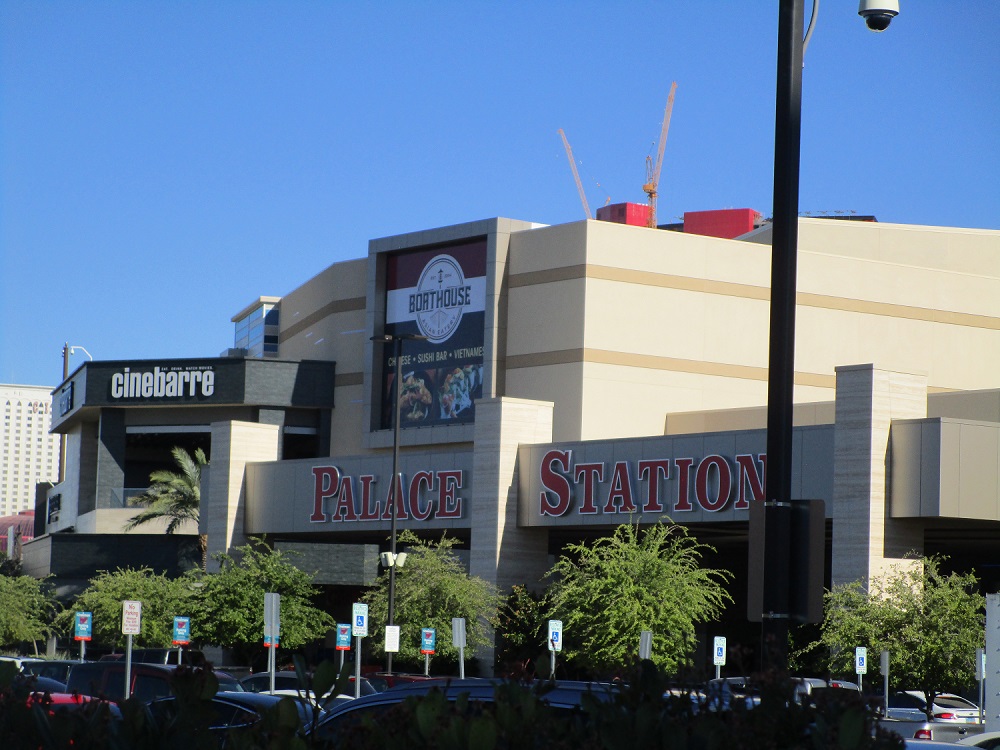 Last Thursday, the Strip seemed dead, but I was anxious to see if there were any changes. I wasn't sure what to expect a week later.
There is only one casino on the Strip at Sahara Ave. and that is the Sahara. I decided to drop in. It was nice inside, but quiet, and there weren't many people. It was the afternoon; maybe the crowds would show up later.
The last time I was here was at their grand opening after a remodeling project. They opened up under the name of the SLS; since then, they have changed back to the Sahara. At that time, the casino was packed. I came in from the rear entrance, arriving by the monorail. There were employees stationed at intervals from the monorail exit to the rear entrance, showing you the way because it is a long walk to the casino. But I remember that the entire casino from rear door to front door was crowded and filled with raucous laughter and shouting; everyone seemed to be having a good time. Today was much different, but I'll have to go back again some time. I will say, though, that this is the end of the North Strip, and not as many people show up in this area.
After grabbing a bite to eat at the Fashion Show Mall food court, my gambling partner and I went over to Treasure Island. More people were here than the Sahara, but the evening was approaching, and we were closer to the heart of the Strip. The race book was closed, and like every other hotel, so was the buffet. But people were enjoying themselves, and there were plenty of them. I enjoyed myself as well, winning at video keno.
We walked down the Strip to the Mirage, which is still closed for now. Then I remembered I wanted to visit Excalibur because this was the first night for its reopening. When we got here, the first thing I noticed was that their people mover, a conveyor belt leading to the casino, was shut off. This meant a long walk uphill. At least a long walk for me. Apparently the accountants are in charge and wanted to save money during a cautious reopening.
Considering how big the casino floor at this place is, there were an amazing amount of people here. But I was interested in their food court. They have a Krispy Kreme doughnut shop that is open 24 hours and is always one of my favorite places for a late night snack on the Strip. Unfortunately, it was not open. Neither was anything else in the food court, for that matter. I gambled for about 30 minutes, but it was getting late. I realized this when it suddenly dawned on me that I was playing a penny slot of The Wizard of Oz. I decided to call it a night.
One general observation I have made is that all of the casinos, off Strip and on the Strip, have closed most of their entrances and exits. They are funneling people through one or two entrances, so they can check your temperature. They are trying to open up all of the major properties, but it remains to be seen if that will be possible without more flights coming in to the airport.
Matt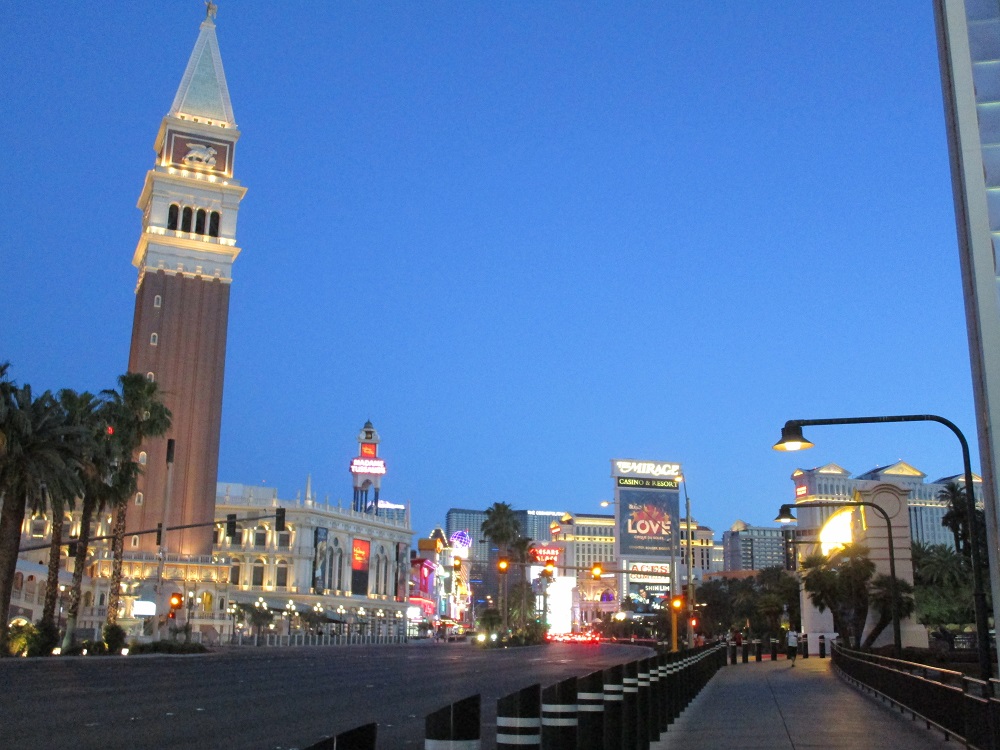 6-7-20
Vegas Is Back!!!!!
After being on lockdown for two and a half months, Las Vegas has slowly begun to open up. On June fourth, some of the Strip casinos opened up. A few of them opened up at midnight, while others opened up in the morning of June fourth. I decided to go down in the afternoon, and I was very excited. But my excitement dissipated quickly as I entered the MGM. As I entered the casino, there was no temperature check or other screening. The place was as dead as I have ever seen a Strip casino to be. Along with a lack of people, the only thing I saw that was unusual was a long line to sign up for a players card. This meant that these people were likely locals.
Not all of the casinos were open. At the same intersection, both Excalibur and Tropicana were closed, but New York, New York was open. However, I didn't stay on the Strip; I was too depressed. I decided to check out a local casino down the street called Orleans. This is a local's spot, and it couldn't have been more different. The place was packed, and everybody seemed to be enjoying themselves, after not experiencing a casino for such a long time.
I stayed home on Friday, but Saturday night, I had to go back to the Strip. After all, maybe there would be a lot of people coming in from California for the weekend. And this may be what happened. The feeling was much different, and visitors to the Strip were out in force. I visited Harrah's first, and most of the tables were full. Face masks were required for the players, but those at the craps tables had masks that were slipping off.
The LINQ casino next door was closed, but I visited the LINQ promenade. There were plenty of people walking up and down the full length of the promenade. It seemed like only half of the stores were open. Hopefully, there will be more to come in the near future. There was a bar that was closed where you could see a skeleton in the window, sitting at a table having a drink. Apparently, a customer was left behind at the time of the lock down.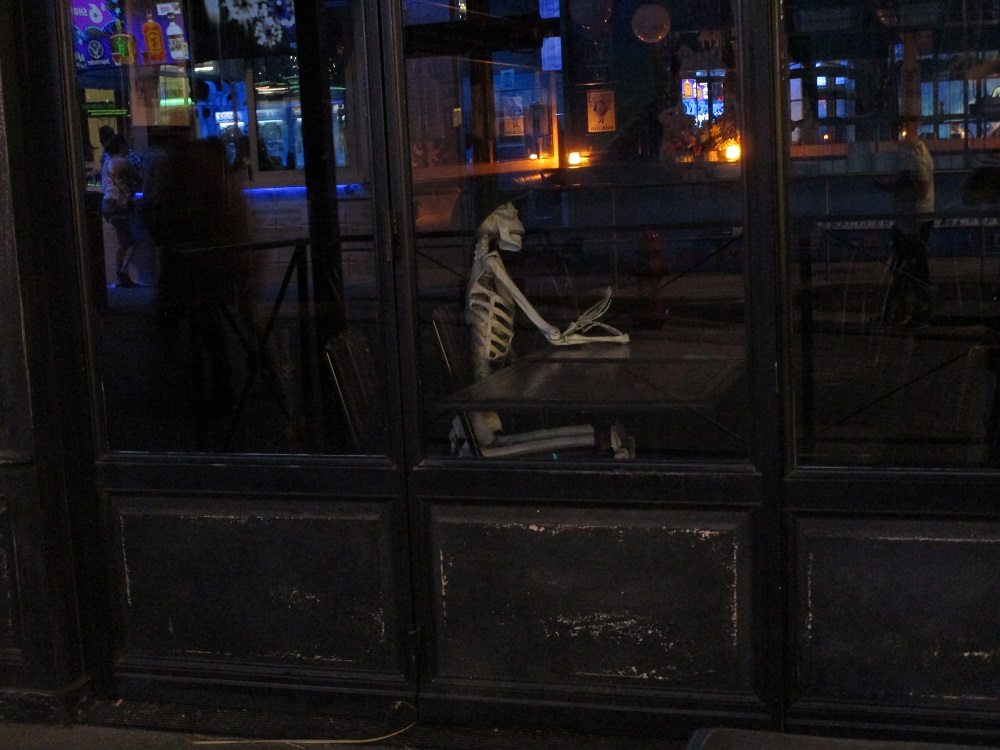 The Flamingo was open and I went inside. This place was packed, much more so than Harrah's, but it is a larger casino. I didn't go across the street to Caesars Palace, which was open. I decided to call it a night. I should point out that there are still many casinos that are not open yet. If more of them were open, the Strip may not have seemed as crowded. I plan on visiting other casinos that are open, and I really want to visit the local casinos. These are the places I think will thrive. The Strip will not get a lot of local play and international customers will be slow to come back. That leaves California and other states in the country. This may not be enough to open up every hotel on the Strip, but only time will tell.
Downtown Las Vegas offers better value for the gambling dollar than the Strip, so it attracts locals and is certainly a good place for tourists on a budget. I'm going to visit Downtown Las Vegas as soon as possible. I'll keep you updated.
Matt
Nov-30-2019
Cosmopolitan Ice Skating
Jun-30-2019
A Word about Circus Circus
Apr-19-2019
Bonnie Springs Closes
Apr-12-2019
What happened to all the McDonald's on the Strip?
Mar-29-2019
The 1923 Bourbon Bar
Mar-15-2019
The New City of Las Vegas Sign
Feb-28-2019
The Bellagio Conservatory
Jan-31-2019
The FLY LINQ Zipline
Jan-15-2019
Las Vegas has a new Triple-A baseball team