I remember years ago visiting a wax museum in Buena Park, California. They called it the Movieland wax museum, and I loved it. All the wax figures were of actors and actresses shown in a scene from a movie or television show. For reasons I was never told, they shut down Movieland. There was another wax museum in Hollywood, but I didn't think the quality of the wax figures was as good. But they did have a good chamber of horrors.
Many years ago, when I came to live in Las Vegas, one of the first things I wanted to do was visit Madame Tussauds. I wasn't disappointed. One thing that jumped out at me was the idea that some of the rooms the wax figures were standing around, and you could walk right up and stand next to the celebrity. The wax museums I went to as a kid had the figures roped off, and you weren't allowed near them. If you're looking for something a little different to do on the Strip, I highly recommend the wax museum. Remember to take your time going through the museum and take lots of photos. Many of the displays are made specifically for a photo, but every wax figure is a photo opportunity.
When I visited Madame Tussauds recently, they had added a new attraction – Marvel superheroes, along with a 4D cinema theater. There were only a handful of superheroes on display, but what I liked best was an enormous Hulk, crashing through a wall, with a large hand that you could stand inside for a cool photo. The 4D movie was a short, CGI creation that had a story intended to generate lots of 3D images for the glasses you're provided. The so called fourth dimension consists of strobe lights, air blowing at your legs and a light spray of water. It was okay. Make sure you watch the movie last because you are ushered through an exit door to the gift shop. There was a door that they let us back through because I still hadn't finished with superhero photos.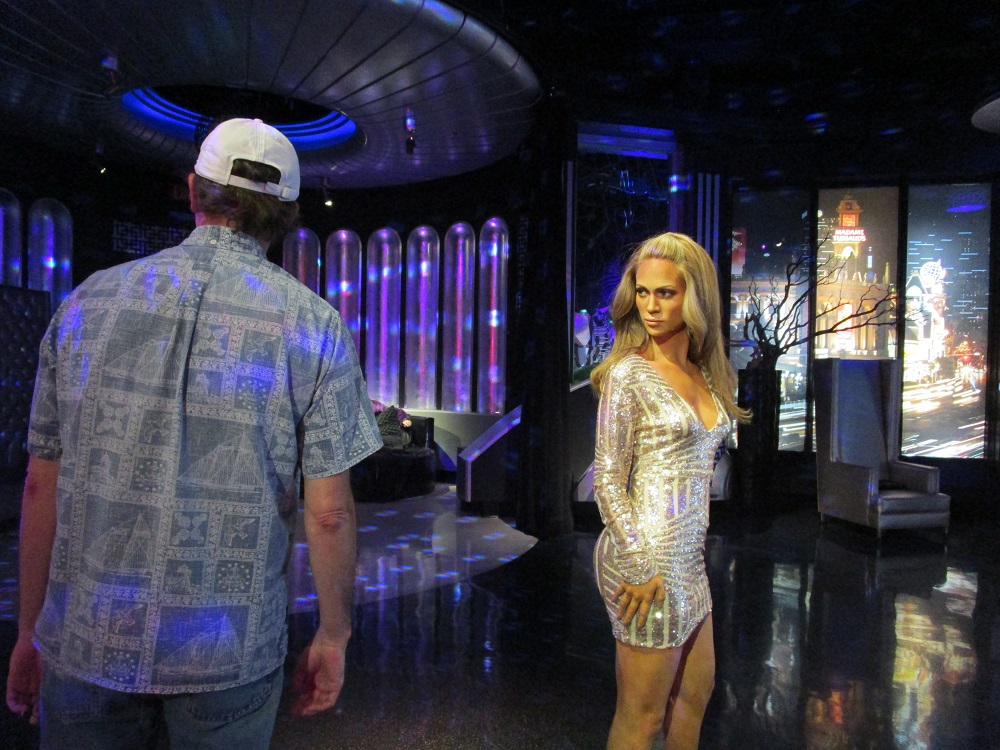 Here I am, looking away, as Jennifer Lopez is caught by the camera checking me out.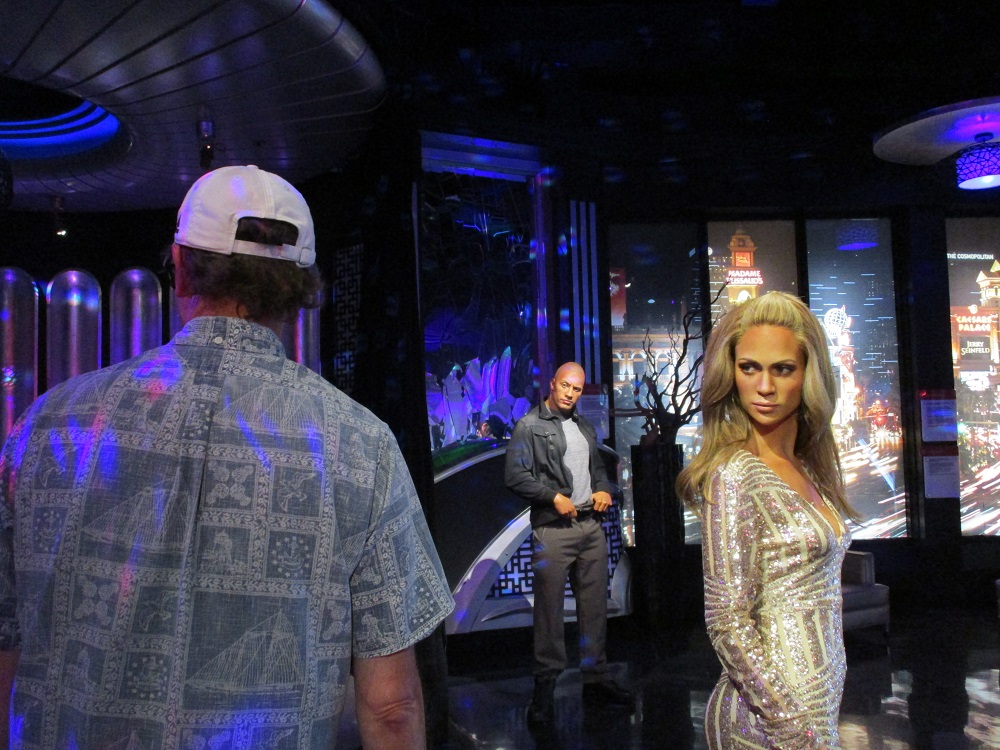 Here, the camera catches Dwayne Johnson (The Rock), checking me out, as Jennifer Lopez continues to check me out. What the heck is going on?
The price for a ticket if you walk up to the window is $29.95; however, if you buy your ticket online, it is only $21.99. So if you have a smartphone, it is easy to make a purchase. You can find more information and buy tickets at their website.
https://www.madametussauds.com/las-vegas/en/tickets/
The wax museum is located on the Venetian property at the far south end, second level, just off the Strip. Have fun!
Matt