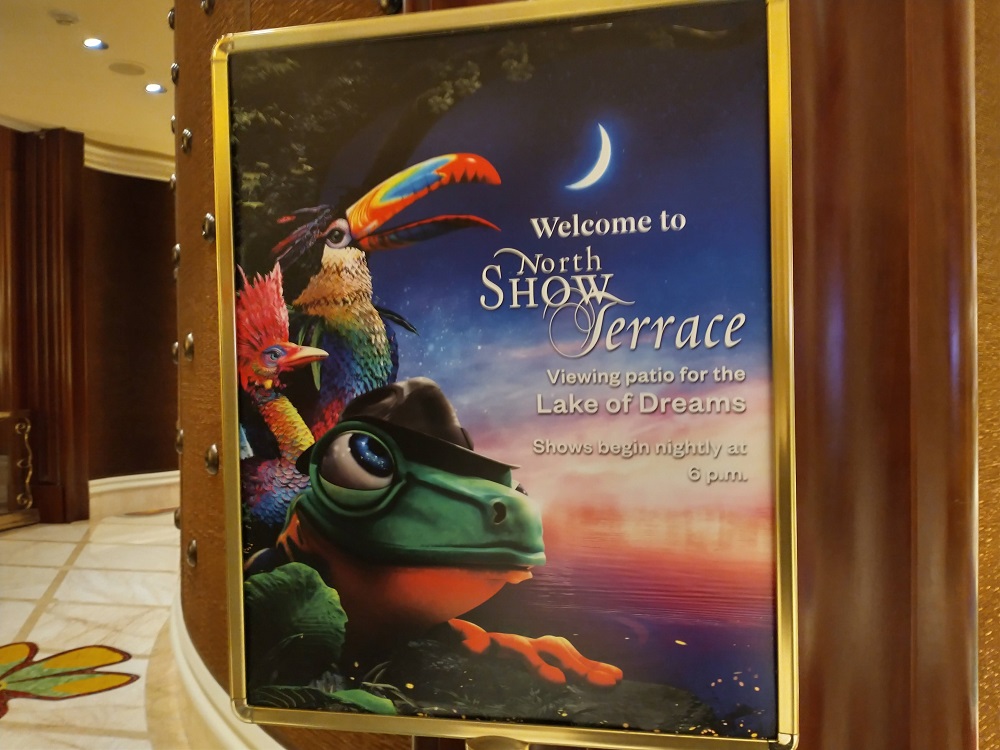 This is an amazing show that takes place on a three-acre lake, incorporating colored lighting, sound effects, animatronics, and a 90-foot waterfall; you will be mesmerized. Unfortunately, you can't simply walk up to the Lake of Dreams and watch the show. The lake is surrounded by several bars and restaurants, so the best way to see the show is while you dine or drink.
The New Lake of Dreams can be seen from the Parasol Up and Parasol Down Lounges, or from the two upscale restaurants at lakeside level: SW Steakhouse and Lakeside.
SW Steakhouse and Lakeside are both patio dining at lake level. They are also expensive. You can look at their menus and compare the prices to determine if they fit your travel budget. You will need reservations.
The show can be seen without paying for a dinner at the Parasol Up and Parasol Down Lounges. The entrance to the lounge is from the Parasol Up level. You then take a spiral escalator down to the Parasol Down level. Although the dress code here is casual, they do not allow tank tops and swim wear are unacceptable. On a side note, the Parasol Up and Down Lounges are worth a look just for the escalators. You can see a photo and get more information at their webpage.
At the time of this writing, the show is running every 30 minutes. They also have different musical versions of the show, as they change it from time to time.
This is the webpage for the Lake of Dreams.