If you were ever a pinball machine fan at any time in your life, this place may blow your mind. I first heard of it when I visited the Riviera hotel. Located next to their food court was an arcade, and they had working pinball machines, some of which were from the 1960s. These are the type of machines I would play back in the 1970s. The mechanical type that had mechanical reels for the scoring. This was long before the digital electronic versions came along in the 1980s. I was taken back that these machines existed, and that they could be played. Needless to say, I spent more than a few quarters playing these machines.
When they closed down the Riviera, they took away my pinball. I remember noticing that these machines were owned by the Pinball Museum, and I had made a mental note to visit this place someday. I assumed that it was like any other museum, look but don't touch. As it turns out, there seems to have been a name change. It is now called the Pinball Hall of Fame. The name change makes sense. Not only are there a large number of machines under a single roof, but you can actually play them. In fact, it reminds me of the old pinball arcades of the past, before the introduction and growth of video arcade games.
My visit to this place was great fun. I enjoyed playing the games, and it was also a walk down memory lane. I was able to play two of my favorite machines, and there were many I recognized that brought back memories. There were even a few machines that I remembered not liking for different reasons.
Although most of the games were pinball machines, there were some classic arcade games that I spotted. Most notable was Asteroids. To me, this was the first single player arcade game I can remember. I recall seeing lines at the local shopping mall to play the game; lines that I occasionally stood in. I got a thrill playing the game. My youthful photographer, who was with me at the time, was not so impressed by the game, but I suppose you must be a certain age to understand how great this game was, back in the day. There was also a Space Invaders game here as well. This was also an early arcade game that had its share of fans.
I plan on going back here again. There is really nothing else like it. Even back in the late 1970s and early 1980s, when there were arcades with rows of pinball machines that spanned 30 years of design and manufacturing, there were never this many machines gathered together in one place. Like so many other things in this city, it is something that is unique, and I recommend it to anyone that is visiting Las Vegas and loves playing pinball.
Getting to the Pinball Hall of Fame is easy. It is about 1.5 miles east of the Strip on E. Tropicana. It is located on the left side of the street just past Spencer St.
The Pinball Hall of Fame
1610 E. Tropicana
Las Vegas NV 89119

Hours
Open daily 11:00 A.M. – 11:00 P.M.
MATT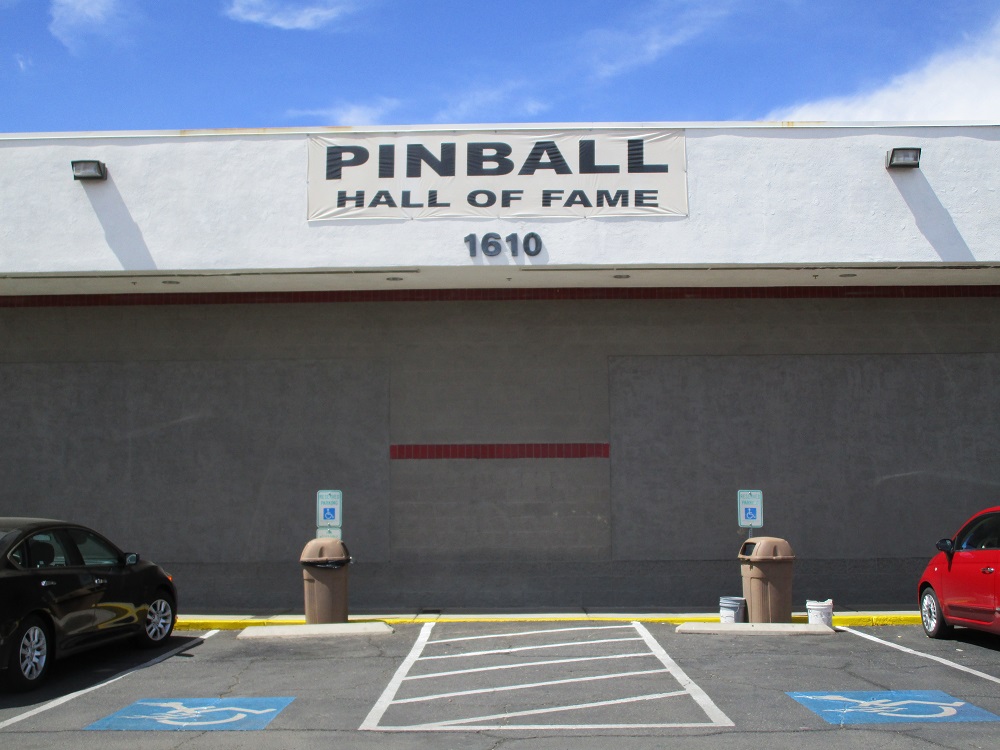 For more things to do in Vegas off the Strip read our publication
Free Things To Do in Las Vegas Off the Strip – Away from the Neon Lights by Matt Lashley
This book is currently available:
As an eBook in Kindle format on Amazon
It is also available in Paperback on Amazon
ISBN: 1545575398