I went here because I was looking for something to do on a hot day, and I knew that this place was indoors with air conditioning. It is located in what I would call a strip mall or shopping plaza, taking up several suites of a single floor building.
As a big fan of traditional miniature golf courses, I can tell right now that this is not what this miniature golf course is. By traditional miniature golf, I mean the big outdoor courses with castles and windmills. We used to have one here in Las Vegas. It was located near the 15 freeway. In fact, you could easily see it when traveling southbound before the Sahara exit. They closed it several years ago, and I have missed it ever since.
So if you decide to go to KISS Monster Mini Golf, put a traditional miniature golf course out of your mind. To be fair, this miniature golf is not meant to be such a place, and I knew that when visiting it. It is indoors, and it is designed to be glow in the dark with the use of black lighting. The balls are various colors, and they glow in the dark as well. You can easily see other golfers and the entire course, but you need to walk slowly and watch your step. A single round of golf seemed to go quickly, but this is most likely due to a smaller indoor course versus a large outdoor course that requires more walking. Still, I enjoyed myself, and it is something to do besides gambling while you are in Las Vegas. Just remember, if you go for the golf, reduce your expectations, and you'll probably enjoy it as I did.
If you are a big KISS fan, you will likely love this place. The entire interior references the band KISS, and you will like everything to see around you. There is a gift shop that you can visit before or after you golf. In fact, the gift store is to the right of the ticket window after you enter the building, so you probably can visit the store without a round of golf. On your way out of the building, on the left of the entrance, there is a lot of KISS memorabilia in glass cases that was interesting. I confess, I did buy the KISS live album when I was in middle school, but by the time I entered high school, I had moved on to other rock bands. My point being, even former KISS fans will find the interior decorations and the memorabilia interesting.
KISS Monster Mini Golf is located on Paradise Road just off the Strip near Harmon. In fact, it is located right near the corner of Harmon and Paradise (the South West corner). If you are familiar with the area near the Strip, it is across from the Hard Rock Cafe.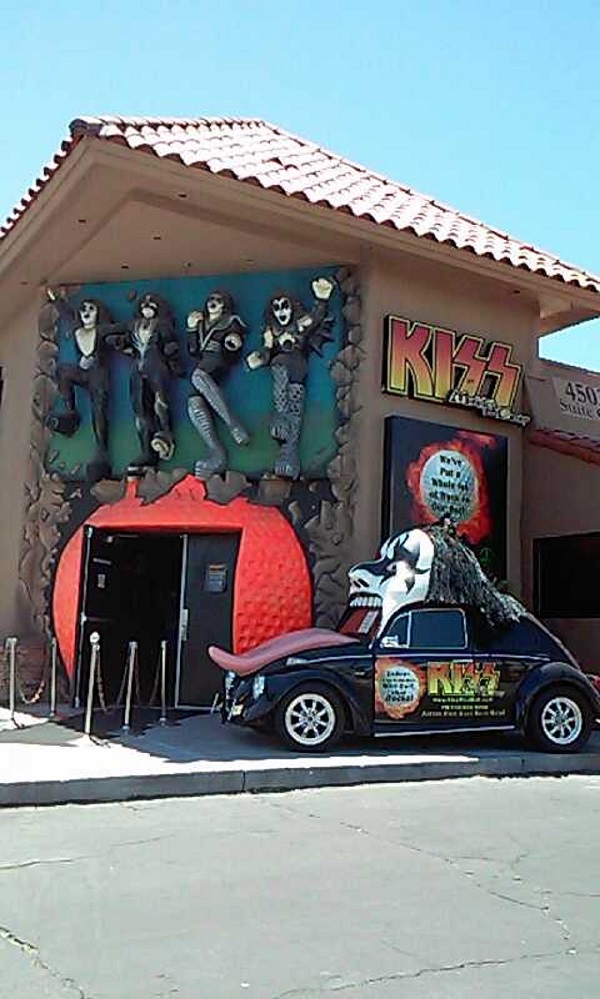 You can call for current pricing and more information
Phone: (702) 558-6256
Address: 4503 Paradise Rd Las Vegas, NV 89169
Matt
For more things to do in Vegas off the Strip read our publication
Free Things To Do in Las Vegas Off the Strip – Away from the Neon Lights by Matt Lashley
This book is currently available:
As an eBook in Kindle format on Amazon
It is also available in Paperback on Amazon
ISBN: 1545575398